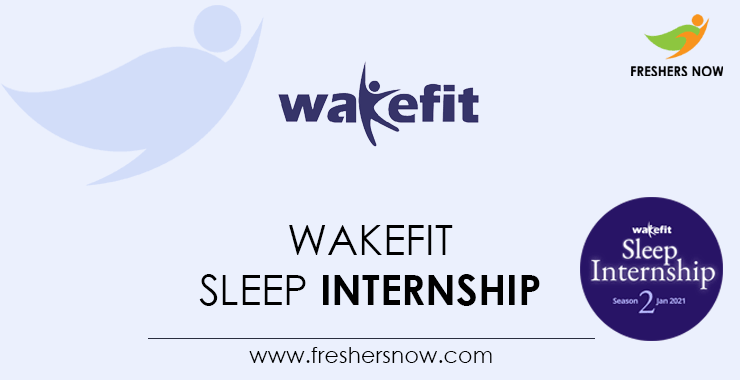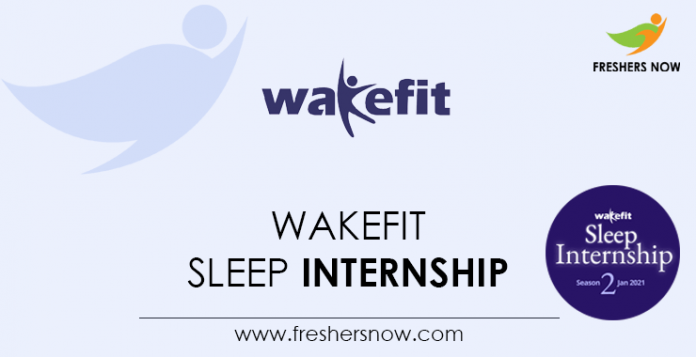 Wakefit Sleep Internship 2021 | Earn ₹10 lakhs | Work From Home Jobs in India: Good News…!!! The All New Season 2 of Wakefit.co's Sleep Internship Programme is set to move up a storm, as the competition for India's best sleeper begins again. Those who are seeking the Latest Wakefit Sleep Internship 2021 Across India can get all those details through Each selected 'Sleep Intern' will earn Rs. 1 Lakh. Moreover, the best performing Intern or the Sleep Champion will earn Rs. 10 Lakhs. From the comfort of your own home, you can do Wakefit Sleep Internship 2021. We have provided the direct link for Wakefit Sleep Internship Registration for Season 2 of 2021 to the end of our article.
Wakefit Sleep Internship 2021 | Earn ₹10 lakhs | Work From Home Jobs in India
Latest Wakefit Sleep Internship 2021 | Season 2
Company Name
Wakefit
Job Profile
Sleep Intern
Qualification
Any Graduate
Category
Internship Jobs
Stipend
10 lakhs
Location
From the comfort of your own home
Website
wakefit.co
Who is a Sleep Intern?
We are on a mission to find the most committed sleepaholic in the country. A perfectionist who strives to get 9 hours of the perfect quality of sleep, every night. The ideal sleep intern can sleep anywhere and anytime, but also has a well-rounded routine that includes healthy meals, a robust fitness regime. They have supernatural control when it comes to binge-watching and doom scrolling and is able to switch off at the right times. Most importantly, selected sleep interns earn a stipend of Rs. 1 lakh.
About Wakefit
Wakefit is a home and asleep solutions company that strives to create cozy and comfortable home environments that are ergonomic in feature and cozy in nature. At Wakefit, we are passionate about learning as much as we can about the sleep patterns of individuals so that we can create intuitive products that enhance the sleep quality of our customers. And they are looking for individuals who are passionate about sleep and have an uncanny ability to fall asleep just about anywhere and anytime – even amidst loud noises, important meetings, and gripping movies.
Basic Qualifications
A history of falling asleep in class, during meetings and calls is considered to be a valuable experience.
A strong point of view on bedroom and home aesthetics and should have tricks and tips up his/ her sleeve on creating the perfect sleep environment.
Motivation to sleep deeply and for the full nine hours on all nights, not just weekends.
You should be well versed with the nuanced benefits of a nap and the art of taking a siesta.
An affinity to pass time apart from screens, and should indulge in activities such as reading, listening to meditative music, and other unplugged activities that promote good sleep.
A healthy appreciation of bedroom products and relevant knowledge of the right features that make for good sleep products.
A compelling need to track sleep and fitness habits.
A love for beverages and meals that induce sleepiness, such as rice or chamomile.
Equipment
On selection, interns will receive a Wakefit mattress. A mode of tracking, integration of an app will be arranged for every sleep intern.
Preferred Qualifications
A completed degree in any field.
A strong sense of self-control while scrolling through social feeds and the ability to curb binge-watching, even at a season finale level.
A curiosity for all things sleep, with sleep tips at his/her fingertips.
Should be able to fall asleep within 10-20 minutes of hitting the pillow – or any flat sleeping surface.
Should have a sleep conducive lifestyle – no late-night snacking, excessive intake of caffeine or alcohol. A fitness regimen is a bonus.
A newfound propensity to fall asleep during virtual calls or meetings.
A new approach of dressing and remaining in pyjamas/ shorts/ nightclothes 24/7.
Benefits
Earn ₹10 Lakhs for 9 hours of sleep for 100 days
A state of the -art mattress to help you get deep sleep.
A stipend of ₹1 lakh for each sleep intern.
The chance to get paid to sleep.
A tracking mechanism to track your sleep.
A prize of ₹10 lakhs for the best performing intern or the Sleep Champion.
You will be required to
Sleep for 9 hours every night, for 100 nights.
Compete with other applicants to be the Sleep Champion of India.
Track your sleep every night.
Be engaged throughout the internship, taking part in challenges thrown your way.
What is the Sleep Internship?
The Wakefit Sleep Internship is a unique employment opportunity for individuals to apply for a paid position, where all that's expected of them is deep, uninterrupted sleep for 9 hours, every night for 100 nights in return for a handsome sum. After a rigorous selection process, filled with exciting challenges, a group of super sleepers or passionate sleepers will be selected to be part of the Wakefit Sleep Interns Batch of the year 2021-22.
Wakefit Sleep Internship Registration Process 2021 – Season 2
Visit the website @ https://wakefit.co/.
From there, check and click on the link "Wakefit Sleep Internship – Season 2 of 2021."
Read all the information Wakefit Work From Home Internship 2021.
If you are interested and eligible, then apply for it through the Wakefit Sleep Internship Link provided below.
Wakefit Sleep Internship 2021 – Important Links
Get Details of Wakefit Sleep Internship 2021 – Season 2
Click Here
Online Wakefit Sleep Internship Registration 2021 Link
Click Here
We hope that all the candidates have got the full details about the Wakefit Sleep Internship Across India 2021. So, visit us on FreshersNow.Com to know more information.