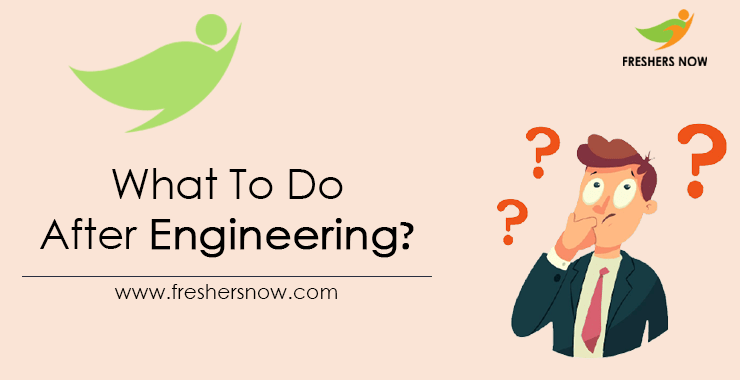 What To Do After Engineering? Top Career Options After B.Tech: After completion of B.Tech, every student will be in a dilemma in choosing the right path for their future. Moreover, students might go through a lot just by thinking of What next after B.Tech? Here is the place where you can figure out and can know the different paths you have after the completion of B.Tech. In this article, we have mentioned different Career Options for the B.Tech graduates in order to make them enlighten about their future.
It is very important for every B.Tech graduate to plan things ahead and to choose the right path. Whereas there were many opportunities awaiting in this world for the B.Tech graduates. To help you decide the right career path, we have listed different ways to opt-in to what you are interested in.
Top Career Options After B.Tech
Students before their completion of the B.Tech degree they must plan the things ahead for a good career. Below, we have listed some career paths, so that students can go through them in detail and can choose the suitable path they are interested in.
Different Career options that a B.Tech graduate can opt for are:
College placement – Private Jobs, Higher Studies in Engineering/ Management Field, Certificate, Expert, Internships, Entrepreneurship/ Startup, Civil Services, Public Service Undertaking, Indian Armed Forces, Teaching, Merchant Navy.
Let's go into detail about each career option.
College Placement – Private Jobs
Most of the Engineering colleges conduct campus placements and will let the students have a job in their hands before completion of B.Tech. Whereas for this to happen, colleges will conduct special classes for the students other than the Academics, in order to make the students enhance their skills in many aspects. These trained students will go through the placements that happen in their College itself and will get a job in the respective domains/ streams.
Moreover, most of the Private Sector Companies show interest to recruit freshers from the engineering streams, as they contain the skills that a company needs. Opportunities are very vast to get a job in the private sector, so interested ones can choose this path to brighten their career.
Higher Studies In Engineering/ Management Field
Many students aspire to do higher studies after B.Tech like M.Tech/ ME/ MBA/ Masters in Management/ Masters in Engineering Management.
Higher Studies in Engineering Field
Students opting for the M.Tech/ ME must prepare for the Graduate Aptitude Test in Engineering (GATE), which tests the engineering skills of a student. By getting a good Score in the Gate Exam students can get a seat in NIT/ IIT colleges.
Students who have interested in doing MS must appear for the TOEFL/ IELTS and GRE exams in order to get the scholarships. Some colleges like BITS/ VIT/ SRM conduct exams on their own.
Higher Studies in Management Field
Masters in Business Administration 
Master in Business Administration is a degree that shines the students in the art of business organization and management. This career option escalates and makes the students reach higher positions.
There are different streams that fall under MBA like:
MBA in Finance
MBA in Marketing
MBA in Operation Management
MBA in Data Analyst
Masters in Engineering Management 
Masters in Engineering Management covers three aspects together under one umbrella. They are Engineering, Technology, and Management. It is said to be an Engineer's MBA. The MEM degree is for the graduates who want to excel in the engineering field along with Management skills. This course acts highly efficient and blends the candidates in engineering and management skills.
Certificate Courses
To learn anything, there is no end. If anyone wants to upskill their knowledge in a particular stream they can do certificate courses. Whereas companies will hire candidates having updated skills. Doing certification will in turn fortify your professional credibility, enhances the knowledge, stimulates and provides a wider scope of opportunities.
Students can found different certification course platforms like AWS, Google, CompTia, upGrad, etc., where it offers courses in different domains like Software Development, Management, MBA, Data Science, Machine Learning, and Digital Marketing, etc.
Internships
Students to get the experience in the field they belong to can join in the internship to get practical knowledge before they start their career in other companies. Where to get an internship, candidates must attend the interview and the selected one will be given the opportunity to work on a contract basis. Having the internship experience will add on good weightage/ image to the students when he/ she attends the interview later.
Entrepreneurship/ Startup
After engineering, you can choose the path of Entrepreneurship, whereas nowadays many of the students are inspired to start their own business and want to excel in them. As an engineer entrepreneur, you have the freedom to express your creativity to show it to the world. Though this path has many challenges to face, it is suggested to think twice before choosing this path.
Civil Services
If you desired to work for the nation, you can opt for the Civil Services, where you need to appear for the UPSC Civil Service Exam. As it is one of the toughest exams, it demands for preparation of one year before applying for the exam.
On getting the highest rank in the Exam, you will get prestigious positions like IAS/ IPS/ IFS. The UPSC Engineering services selection comprises of 3 stages:
Stage-I: Engineering Services – Prelims / Stage-I Examination (Objective Type Papers)
Stage-II: Engineering Services – Mains/ Stage-II Examination (Conventional Type Papers)
Stage-III: Personality Test
Public Service Undertaking
PSUs are the companies that are partially owned by the Central/ State Government. Whereas one can enter into the Government PSUs and can get well-paid jobs. As it has the highest competition, students need to appear for the GATE exam to get the job. LIC, BHEL, Hindustan Copper Limited, and NALCO are some of the popular PSU companies.
The PSU companies which don't need to have GATE score are:
Airport Authority of India Reserve Bank of India (RBI), OPTCL, Shipping Corporation of India Limited (SCIL), Delhi Electricity Regulatory Commission, Bhabha Atomic Research Centre (BARC), Bureau of Indian Standards Hindustan Newsprint Limited, National Mineral Development Corporation (NMDC), PEC Limited, Border Security Force (BSF), Indian Coast Guard, Housing & Urban Development Corporation Limited, Punjab Police Intelligence Recruitment, CRPF Inspector Recruitment, and UPPCL
Indian Armed Forces
Students who have an interest to serve the nation can opt for this path. Moreover, the Indian Armed Forces have 3 wings, the Indian Army, the Indian Navy, and Indian Air Force. B.Tech graduates can choose this career in any one of the three wings as it sounds very professional and technical. Graduates who want to join in Indian Army will be assigned to any of the three branches like Corps of Engineers, Corps of Electronics and Mechanical Engineers, and Corps of Signals. Depending on your qualification and skill set, you can join the technical squad or the ground squad of the Indian Air Force. In order to get placed in the respective jobs, the graduates must go through the Air Force Common Admission Test (AFCAT).
Teaching
Some of the students who come through college life will be motivated in college itself by looking at the teaching professing. Whereas this is the greatest opportunity for the students to opt for this career as it builds one's professionalism. In which the students can start their careers by taking the classes in the knowledge they have and can brush up their skills and can get the income out of it.
Job Titles/ Career Opportunities After B.Tech
Below are some of the Career Opportunities that one can opt for after B.Tech
Computer Science Engineer, Chemical Engineer, Electronics & Communication Engineer, Electrical Engineer Lecturer/ Professor, Electronics Engineer Software Develop, Aeronautical Engineer Product Manager, Mining Engineer, Mechanical Engineer, Ceramic Engineer, Civil Engineer, Production Engineer, Automobile Engineer, Robotics Engineer, Marine Engineer Construction Engineer, and Aerospace Engineer Telecommunication Engineer.
We hope that the B.Tech Graduates have got the knowledge of what to opt for as a career path by going this article. And we believe you will sustain well in the things you choose. We as a team wish you a great and bright future ahead. We please you follow our page @ Freshers Now, to get more updates with respect to the career options.
Frequently Asked Questions For What to Do After Engineering?
What is the best stream one can opt for After Engineering?
Every stream that lies after engineering is best. Whereas one can think that a particular career option is best for oneself if they opt the most desired and the suitable one based on the interests and expertise they have.
What are the career options when I opt for higher studies?
If you opt for higher studies there are many career opinions like you can do M.Tech/ ME/ MBA/ Masters in Management/ Masters in Engineering Management.
What are some of the career opportunities After B.Tech?
Some of the most prominent career opportunities that you can do after B.Tech are Computer Science Engineer, Electronics & Communication Engineer, Electrical Engineer Mechanical Engineer, Civil Engineer, and there are even more. Candidates can check our site Freshers Now to know more.
Is Civil Services Job suitable for everyone?
If one has the heart to serve the nation, he/ she can be the best suit to do the civil courses. Civil Services is nothing but serving the people, to serve the people one needs to have their wholesome to serve.