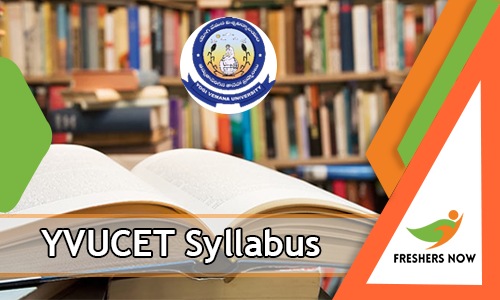 YVUCET Syllabus 2021 & Exam Pattern PDF Download: Well, candidates can freely download the YVUCET Syllabus 2021 PDF from this post. Moreover, we have received the news that a vast number of competitors are now finding for YVUCET Exam Syllabus 2021 and YVU Common Entrance Test Exam Pattern 2021. However, no one can't get accurate material. Therefore, our team has fixed to help the candidates by sharing Subject Wise YVU Common Entrance Test Syllabus 2021 and Exam Pattern.
Therefore, for each and every subject we have attached a separate link. So click on the links and check the topics and subtopics for particular subjects. Moreover, we have collected the YVUCET Syllabus 2021 from the Official Website of Yogi Vemana University (YVU) that is www.yvudoa.net. Therefore, we hope that all the competitors can get the proper material from here.
YVUCET Syllabus 2021 – Information
| | |
| --- | --- |
| Name Of The Exam | Yogi Vemana University Common Entrance Test (YVUCET) |
| Name Of The Organization | Yogi Vemana University |
| Type of the Test | State Level Entrance Exam |
| Category | Entrance Exams |
| Sub Categories | Management Entrance Exams |
| Official Website | www.yvudoa.net |
The complete YVUCET Syllabus 2021 and YVU Common Entrance Test Exam Pattern 2021 are updated in this article. The only thing remaining is preparation. So, the Yogi Vemana Universit has released the Common Entrance Test Date. Now, all the applicants those who are wasting their time in searching for YVUCET Exam Syllabus 2021 in various sources can stop their search. And refer to this post completely because you will get the Subject Wise YVU Common Entrance Test Syllabus 2021 on a single page. Moreover, the below-given link is surely working. So, don't bother about the link and click on it. Well, the main reason for disqualifying in the exams is proper preparation. From now onwards no one can't face any problems because our website is providing free material for the ease of competitors.
★ You Can Also Check ★
YVU Common Entrance Test Exam Pattern 2021
Check the entire YVU Common Entrance Test Exam Pattern 2021 from this section. The YVUCET 2021 Exam will be conducted offline.
Name of the Subjects: Advanced Life Sciences, Botany, Chemistry, Commerce, Computer Science, Economics, Education, English, Geology, General Test, Physics, Mathematics, Physical Education, Telugu, Zoology, M.Sc. 5 Year Integrated Courses, Fine Arts, PG Diploma in Theatre Arts, Urdu, Food Technology, Computational Data Science
The Question Paper consists of 100 Multiple Choice Questions
The time duration of the YVU Common Entrance Test is 90 Minutes
The students need to mark their answers on the OMR sheet.
And you have to use only Black/ Blue Ball Pen
Language of YVUCET 2021 Paper
YVUCET paper will be based on different languages for different courses.
For Computer Science, the paper will be based in English only.
For all other papers, candidates can choose between Telugu and English at the time of filling up the application form.
For all language papers, questions will be asked in that respective language.
Download YVUCET Syllabus 2021 PDF
So, competitors who are about to start their preparation can download the YVUCET Syllabus 2021 PDF from here. Moreover, a massive number of students are thinking about where to get the exact YVUCET Exam Syllabus 2021 PDF. For those candidates, our suggestion is to check the entire YVU Common Entrance Test Syllabus 2021 from this article. Moreover, with the help of the below-given pdf, you can easily download the Syllabus at free of cost. Along with these, you can also download the YVUCET Model Papers on our website. Therefore, right now concentrate on the below-given subjects. Also, remember that there will be a tough competition for Yogi Vemana University Common Entrance Test 2021.
YVUCET Course & Subject Wise Syllabus
M.Sc. Biochemistry Biotechnology Genetics Genomics Microbiology
Section A: Biomolecules: Carbohydrates, Amino Acids, Proteins, Lipids, Nucleic acids, Enzymes, General characters and classification, Composition and functions of blood, Animal hormones, General Microbiology
Section B: Cell Biology and Genetics, General characters and classification, Plant Physiology, Photosynthesis, Plant hormones, Metabolism, Nitrogen metabolism, Concepts of Ecology.
Section C: Inorganic Chemistry, Organic Chemistry, Physical Chemistry.
Botany
Section A: Microbial Diversity, Cryptogams, and Gymnosperms
Section B: Anatomy, Embryology, Taxonomy and Medicinal Botany
Section C: Cell Biology, Genetics, Ecology, and Biodiversity
Chemistry
Section A: Organometallic Chemistry, Chemistry of d‐block elements, Chemical Bonding, Chemistry of f‐block elements, Metal carbonyl, and Related Compounds, Coordination Chemistry, Spectral and magnetic properties of metal complexes, Reactivity of metal complexes, Hard and soft acids bases (HSAB), Bioinorganic chemistry.
Section B: Gaseous State, Solid-state, Solutions, Phase rule, Dilute solutions, . Electrochemistry, Chemical kinetics, Photochemistry, Thermodynamics.
Section C: Structural theory in Organic Chemistry, Acyclic Hydrocarbons, Alicyclic hydrocarbons (Cycloalkanes), Benzene and its reactivity, Stereochemistry of carbon compounds, Halogen compounds, Hydroxy compounds, Carboxylic acids and derivatives, Active methylene compounds, Nitrogen compounds, Heterocyclic Compounds.
Commerce
Section A: Business Economics, Financial Accounting-I, Industrial Organization and Management.
Section B: Banking and Financial Systems.
Section C: Financial Accounting-II.
Computer Science
Section A: PC Software and Programming in 'C'.
Section B: Programming in C++ and Data Structures.
Section C: Modern DBMS.
Economics
Section A: Micro Economics.
Section B: Macro Economics.
Section C: Indian Economy.
Education
Section A: Foundations of Education.
Section B: Psychological Foundations of Education.
Section C: Educational technology and computer education.
English
Section A POETRY 1. Dover Beach by Matthew Arnold 2. Insensibility by Wilfred Owen 3. Poem 36 by Rabindranath Tagore 4. Homecoming by Parthasarathy PROSE 1. Spoken English and Broken English by G. B. Shaw 2. Conjuror's Revenge by Stephen Leacock 3. Prospects of Democracy by Dr. B. R. Ambedkar 4. I Have a Dream by Martin Luther King Short Stories 1. How Far is the River by Ruskin Bond 2. Little Girls are Wiser than Men by Leo Tolstoy One-Act Plays 1. Sacrifice (The Last Act only) by Rabindranath Tagore 2. Merchant of Venice (The Casket Scene only) by William Shakespeare Language Study 1.Comprehension Passage 2. Verb Forms (Tenses) 3. Synonyms, Antonyms, 4. Correction of sentences 5. Idioms 6.One-Word Substitutes
Section B POETRY 1. Solitary Reaper by William Wordsworth 2. The Road Not Taken by Robert Frost 3. Refugee Mother and Child by Chinua Achebe 4. I Will Embrace Only the Sun by Tripuraneni Srinivas PROSE 1. Film-Making by Satyajit Ray 2. Not Just Oranges by Isai Tobolsky 3. On Shaking Hands by A. G. Gardiner 4. India's Contribution to World Unity by Arnold Toynbee NON-DETAIL Short Stories 1. Gajar Halwa by Gita Hariharan 2. My Brother, My Brother by Norah Burke One-Act Plays 1. The Never-Never Nest by Cedric Mount 2. Refund by Fritz Karinthi Written Communication and Composition 1.Concord between subject and verb 2.Figures of Speech 3.Tenses 4.Kinds of sentences 5.Transformation of Sentences 6.Basic Literary Terms
Section C DRAMA 1. Othello by William Shakespeare 2. Saint Joan by George Bernard Shaw NOVEL 1. Pride and Prejudice by Jane Austen 2. That Long Silence by Shashi Deshpande
Geology
Section A: Physical geology, crystallography, and mineralogy.
Section B: Petrology.
Section C: Structural geology, Indian geology, and economic geology.
Physics
Section A: Mechanics, Waves and oscillations.
Section B: Thermodynamics and optics.
Section C: Electrostatics, magnetostatics, modern physics.
Mathematics
Section A: Differential equations and solid geometry.
Section B: Abstract algebra and real analysis groups.
Section C: Linear algebra and vector calculus.
Physical Education
Section A: Principles and history of physical education.
Section B: Body mechanics and kinesiology, health education.
Section C: Organization and administration, supervision, tests in physical education, measurements in physical education, advanced coaching, officiating.
Telugu
Section A PAPER-I Studied Under Part-1 (B) Telugu : Prachina Padya Bhagamu, Adhunika Padya Bhagamu, Novel and Grammar
Section B PAPER-II Studied Under Part-1 (B) Telugu : Prachina Padya Bhagamu, Adunika Padya Bhagamu, Gadya Bhagamu, Drama, Alankaras, Grammar and Essay.
Section C PAPER-II (History of Literature) and paper III (History of Telugu language, Grammar, and Dialects) Studied under part II Telugu of B.A.
Zoology
Section A: Biology of Invertebrates and Cell Biology, Biomolecules of the cell.
Section B: Biology of Chordates Genetics, Evolution and Zoogeography.
Section C: Animal Physiology, Behavior and Ecology.
YVUCET Syllabus – Important Link
To Download YVUCET Syllabus 2021 & Exam Pattern PDF
Click Here
Therefore, simply click on the above link and download the YVUCET Syllabus 2021 PDF. Meanwhile, you have to start your preparation as soon as possible. Because a huge number of people are in a race to participate in the test. So, to face the competition you have to work hard. Moreover, we hope all the aspirants got enough information from this post. Hence, bookmark our website freshersnow.com and get more Syllabus for Entrance Exams.
YVUCET Syllabus 2021 – Frequently Asked Questions
For how many marks will the YVUCET 2021 Exam be conducted?
The Exam will be conducted for 100 Marks (30 in Section A, 30 in Section B and 40 in Section C).
How much time will be provided for YVUCET 2021 Exam?
Only 1 Hour 30 minutes of time will be given for YVUCET 2021 Exam Pattern.
Is there any negative marking in the YVUCET 2021 Exam?
There is no negative marking in the YVUCET 2021 Exam.