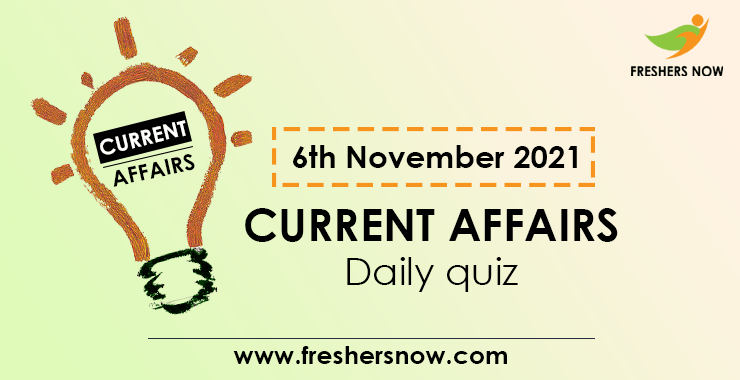 6th November 2021 Current Affairs Quiz: Hello guys! Are you looking for the 6th November 2021 Current Affairs Quiz? if yes, check this article. For the sake of candidates, we have provided Latest Current Affairs Quiz along with the Answers and Explanations. By referring to the below sections, candidates can get knowledge about daily current affairs. Grab this chance to score more marks in various exams like SSC, RRB, IBPS, IDBI, and any other Government Exams, Bank Exams.
★★ Monthly Current Affairs Quiz ★★
6th November 2021 Current Affairs Quiz
1) South African author Damon Galgut wins Booker Prize 2021, what is the name of the book?
a) The Testaments
b) Lincoln in the Bardo
c) The Promise
d) Wolf Hall
Answer: C
Explanation: South African writer Damon Galgut won the prestigious 2021 Booker Prize for fiction with `The Promise', a novel about one white family's reckoning with South Africa's racist history.
★★ Practice Free Mock Tests ★★
2) Asian Development Bank has approved USD ____ million loans to improve the livability of Agartala, India.
a) 41
b) 61
c) 31
d) 71
Answer: B
Explanation: Asian Development Bank (ADB) has approved a $61 million loan to improve livability, harness technology, and promote new developments to accommodate the expanding population in the city of Agartala, India. The city suffers from poor infrastructures such as inadequate stormwater drainage, wastewater, and road networks. Livability has also deteriorated due to high population density and poor infrastructure, causing pressure on the delivery of urban services.
3) DoT forms an innovation group for 6G technology, who is the Chairperson?
a) K Rajaraman
b) Sushil Chandra
c) N. V. Ramana
d) Pradeep Kumar
Answer: A
Explanation: Telecom secretary K Rajaraman will head the initiative as chairperson and the forum aims to create vision and objectives as well as develop a roadmap for research and development (R&D), pre-standardisation, development of applications and products, and action plans for 6G technology.
★★ Practice GK Questions & Answers ★★
4) PM Modi launched a month-long campaign for Covid-19 vaccination, what is the name of the campaign?
a) Svasth Rahen
b) Har Ghar Dastak
c) Surakshit
d) None of the above
Answer: B
Explanation: Prime Minister Narendra Modi launched a month-long "Har Ghar Dastak" campaign for special house-to-house Covid-19 vaccination focussed on those whose second dose is overdue to accelerate the inoculation drive. After launching the campaign at a review of 45 districts with low first-dose vaccination coverage across 11 states and a union territory.
5) ____ Launches 1st Commemorative Coin featuring Mahatma Gandhi.
a) Britain
b) France
c) Belgium
d) Germany
Answer: A
Explanation: Britain unveiled a new commemorative coin to mark Diwali, celebrating the life and legacy of Indian independence leader Mahatma Gandhi. Rishi Sunak, Britain's first Hindu finance minister, called it a "fitting tribute to an influential leader who inspired millions of people around the world".
★★ Practice Aptitude Questions & Answers ★★
6) When is World Tsunami Awareness Day observed?
a) 3rd November
b) 5th November
c) 6th November
d) 4th November
Answer: B
Explanation: In 2021 5th November, World Tsunami Awareness Day promotes the "Sendai Seven Campaign," which aims to 'substantially enhance international cooperation to developing countries through adequate and sustainable support to complement their national actions for implementation of the present Framework by 2030.'
7) How many sportspersons have been selected for the Major Dhyan Chand Khel Ratna Award 2021?
a) 7
b) 12
c) 17
d) 8
Answer: B
Explanation: Major Dhyan Chand Khel Ratna Award will be given to 12 sportspersons including Neeraj Chopra, who won gold for India at the 2020 Tokyo Olympics. National Sports Award will be given in New Delhi on November 13.
★★ Practice Reasoning Questions & Answers ★★
8) By which year did the leaders of the COP26 climate summit vow to cease and reverse deforestation?
a) 2027
b) 2022
c) 2025
d) 2030
Answer: D
Explanation: The deal, agreed between more than 100 world leaders, was announced at the COP26 climate summit in Glasgow. It was the event's first major announcement. It promises to end and reverse deforestation by 2030, and includes almost £14bn ($19.2bn) of public and private funds.
9) Which country is set to provide "India Green Guarantee?
a) Brazil
b) America
c) UK
d) China
Answer: C
Explanation: The UK launches India Green Guarantee, commits funds for EVs in India. The UK will provide an India Green Guarantee to the World Bank, to unlock an additional 750 million pounds for green projects across India. India Prime Minister Modi welcomed the new U.K. India Green Guarantee to unlock World Bank funding," Downing Street noted.
★★ Practice English Questions & Answers ★★
10) ____ to introduce the Prevention of Loss of Public and Private Property and Recovery of Damages Act.
a) Uttarkhand
b) Andhra Pradesh
c) Uttar Pradesh
d) Madhya Pradesh
Answer: D
Explanation: Madhya Pradesh government will introduce a bill in the winter session of the state assembly to recover double the cost of vandalised public and private property during protests from the organisers of the stir and agitators. Madhya Pradesh will be the third state to introduce such legislation after two other Bharatiya Janata Party (BJP) ruled states Uttar Pradesh and Haryana.
Hope that the above-given latest current affairs are helpful to the candidates. And for day-to-day current affairs follow our site @ Freshersnow.com and also get all the latest news and notifications.