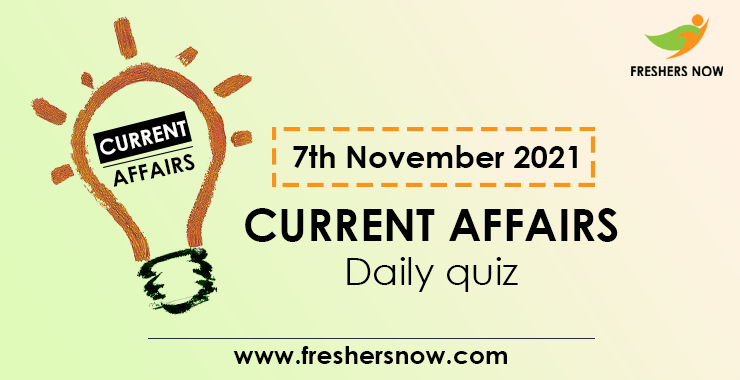 7th November 2021 Current Affairs Quiz: For the sake of candidates, we have provided the latest top 10 Current Affairs in the below section. Candidates who are preparing for the SSC, IBPS, RRB, IDBI, or any other Government Exams, need to check this article and get to know about the Latest 7th November 2021 Current Affairs. By referring to the below sections, aspirants can gain more marks in the Central/ Government Exams, Bank Exams. So, candidates need to check this page and get Daily Current Affairs.
★★ Monthly Current Affairs Quiz ★★
7th November 2021 Current Affairs Quiz
1) West Indies Dwayne Bravo has announced retirement from which sport?
a) Football
b) Swimming
c) Cricket
d) Wrestling
Answer: C
Explanation: Dwayne Bravo has announced his retirement from international cricket, while Chris Gayle looks set to retire when he waved the crowd goodbye. Two top Windies cricketers—Chris Gayle and Dwayne Bravo played their last game together as West Indies took on Australia in their last game at the ICC T20 World Cup.
Static Points:
Dwayne Bravo Test Debut – 2004
Teams (Played For) – West Indies, Mumbai Indians, Gujarat Lions, Chennai Super Kings, and Others
★★ Practice Free Mock Tests ★★
2) A Commerce Secretary-level meeting was held between India and which country?
a) Nepal
b) Bhutan
c) China
d) Japan
Answer: B
Explanation: India and Bhutan will have seven additional entry and exit points for trade as part of measures to increase trade connectivity. The decision was taken at a commerce secretary-level meeting held between India and Bhutan on trade and transit issues here.
Static Points:
Bhutan Capital – Thimphu
Bhutan PM – Lotay Tshering
Bhutan Currency – Ngultrum
3) Which Indian company has launched the Smart anti-airfield weapon successfully tested?
a) DRDO
b) IOCL
c) ISRO
d) QUARO
Answer: A
Explanation: The Defence Research and Development Organisation (DRDO) and Indian Air Force (IAF) have jointly carried out two flight tests of the indigenously-developed smart anti-airfield weapon. It is designed to be capable of engaging ground targets with high precision up to a range of 100 kilometres.
Static Points:
DRDO Headquarters – New Delhi
DRDO Chairperson – G Satheesh Reddy
★★ Practice GK Questions & Answers ★★
4) When was National Cancer Awareness Day was observed?
a) 2nd Sunday of November
b) 6th November
c) 8th November
d) 7th November
Answer: D
Explanation: November 7 was chosen as the date of observance to generate awareness about early detection and causing-causing lifestyles. The National Cancer Control Programme was initiated in 1975 to provide cancer treatment facilities in the country. The program was modified almost ten years later to provide a boost to prevention and early detection.
Theme – I Am and I Will
5) Operation Red Rose' is an anti-illicit liquor campaign, being implemented in which state?
a) Punjab
b) Karnataka
c) Kerala
d) Maharashtra
Answer: A
Explanation: Punjab's Excise Department launched 'Operation Red Rose' in 2020, to curb illicit liquor trading and nail excise-related crimes. The police launched the special drive about 20 days ago to take strict action against all kinds of liquor smuggling, bootlegging and illicit distillation of liquor in Ludhiana as part of the statewide directive from the Punjab director general of police (DGP).
Static Points:
Punjab CM – Charanjit Singh Channi
Punjab Capital – Chandigarh
Punjab Governor – Banwarilal Purohit
★★ Practice Aptitude Questions & Answers ★★
6) Which country has announced to provide USD 144 million assistance to the people of Afghanistan?
a) Europe
b) Russia
c) USA
d) France
Answer: C
Explanation: US announces USD 144 million humanitarian assistance for the people of Afghanistan. Washington [US]. the US Secretary of State Antony Blinken on Thursday announced nearly USD 144 million in humanitarian assistance to the people of Afghanistan affected by the ongoing humanitarian crisis.
Static Points:
US President – Joe Biden
Capital – Washington DC
Currency – Dollar
7) What is the name of Former Punjab CM Amarinder Singh's new party?
a) Punjab Congres
b) Punjab Lok Congress
c) Bharti Lok Lehar
d) Punjab Janata Party
Answer: B
Explanation: Former Punjab chief minister Captain Amarinder Singh sent his resignation letter to Congress chief Sonia Gandhi. Singh also announced the name of his new political party "Punjab Lok Congress" months before the assembly elections in the state. Amarinder Singh said he is hopeful of a seat arrangement with BJP in 2022 Punjab Assembly polls if farmers protest is resolved in farmers' interest.
Static Points:
Punjab Wild Life Sanctuaries – Abohar, Harike Lake, Jhajjar Bacholi
Power Plants in Punjab – Guru Gobind Singh, Super Thermal Power Plant
★★ Practice Reasoning Questions & Answers ★★
8) Who won Nizami Ganjavi Award along with the Kailash Satyarthi?
a) Jimin Marie
b) Werner Heisenberg
c) Hermann Muller
d) Jeffrey Sachs
Answer: D
Explanation: Nizami Ganjavi International Award to Jeffrey Sachs and Kailash Satyarthi is timely going into the best role models of our future that will be determined with the fulfilment of SDGs and children living with dignity as our shared great wellspring of next-generation leaders.
9) What is the edition of Goa Maritime Conclave Indian Navy's outreach?
a) 3rd
b) 4th
c) 5th
d) 6th
Answer: A
Explanation: The third edition of the Goa Maritime Conclave, the Indian Navy's outreach initiative, will be held between November 7 and 9, where the non-traditional threats in the Indian Ocean Region and other issues will be discussed. Chiefs of navies or heads of maritime forces from 12 Indian Ocean littorals Bangladesh, Comoros, Indonesia, Madagascar, Malaysia, Maldives, Mauritius, Myanmar, Seychelles, Singapore, Sri Lanka and Thailand will participate in the event.
Static Points:
Goa Maritime Conclave Host – The Chief of Indian Navy Admiral Karambir Singh hosted the conclave.
The GMC 2021 was held in – Naval War College, Goa
★★ Practice English Questions & Answers ★★
10) Which cabinet approves the creation of the Eastern West Khasi Hills district?
a) Manipur
b) Mizoram
c) Meghalaya
d) Maharashtra
Answer: C
Explanation: The Meghalaya Cabinet approved a proposal to upgrade the Mairang civil sub-division to a full-fledged district. It will be called the Eastern West Khasi Hills district, according to Deputy Chief Minister Prestone Tynsong.
Static Points:
Meghalaya Capital – Shilong
Meghalaya CM – Conrad Sabgma
Meghalaya Governor – Satya Pal Malik
Hope all the candidates have gathered complete details about the 7th November 2021 Current Affairs Quiz from the above sections. Follow this site @ Freshersnow.com to get all the latest news.