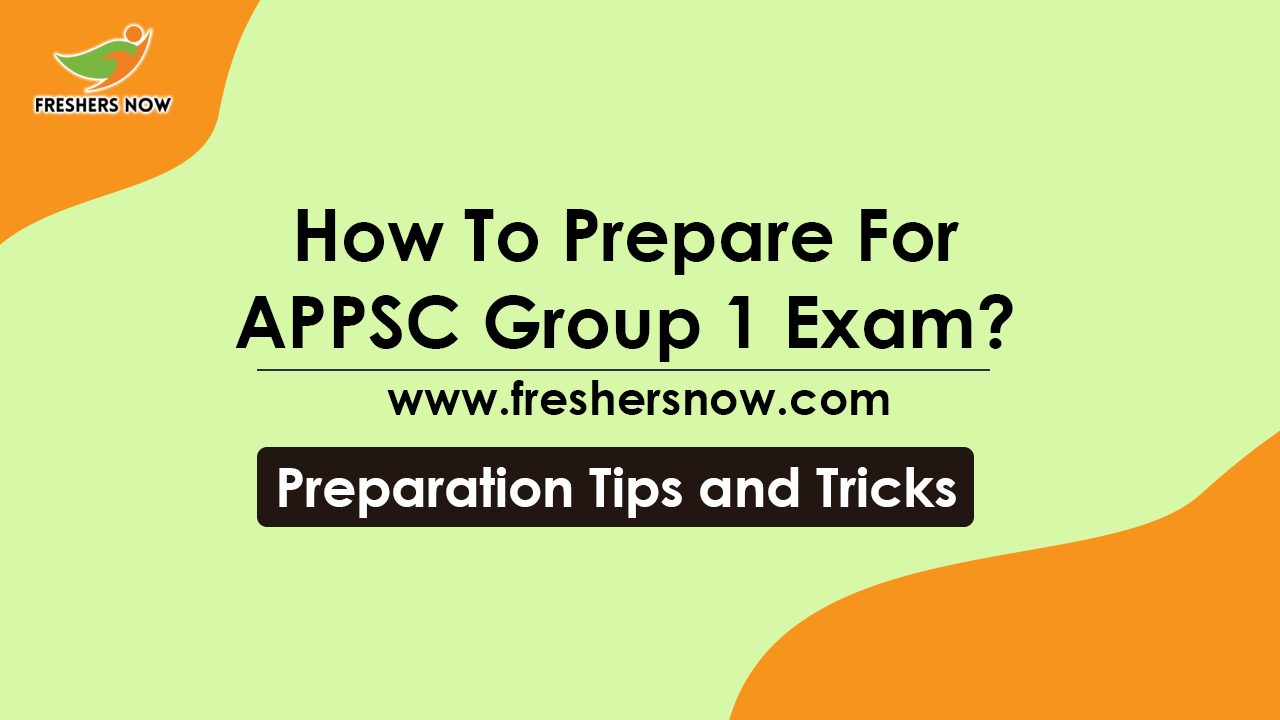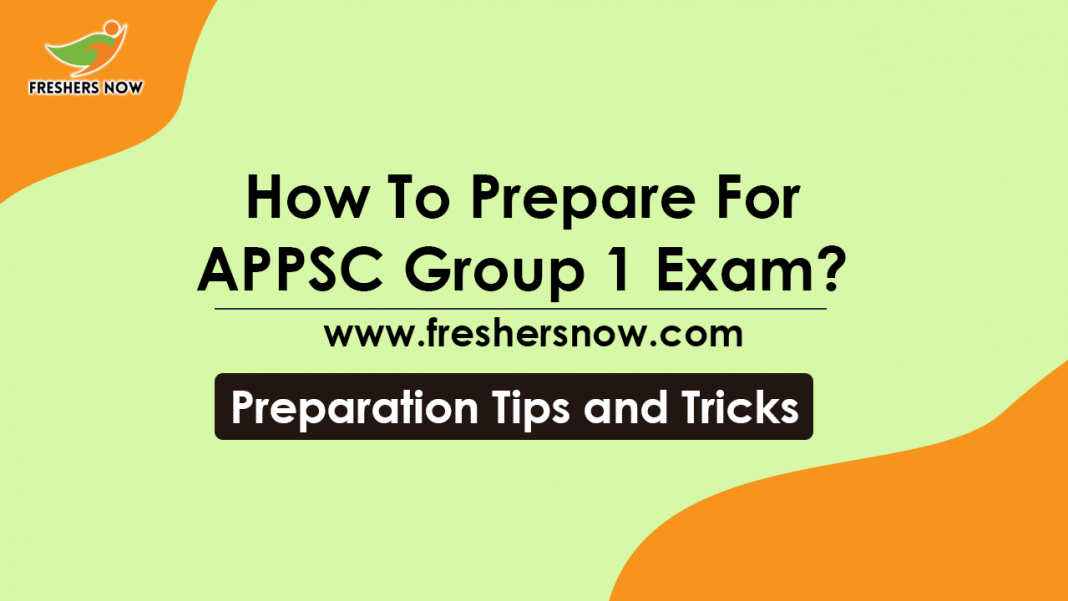 How to Prepare for APPSC Group 1 Exam? Preparation Time, Study Plan @ psc.ap.gov.in: Hello there! Do you want to pass the Andhra Pradesh Public Service Commission Group 1 Exam in one go? If yes, then this page is for you. The purpose of this page is to inform you about the APPSC Group 1 Exam Preparation Tips and Study Plan. In addition, by reading this entire page, you will learn how to prepare for the APPSC Group 1 Exam. Below, we have split all of the details into sections. Read each section available as you scroll down the page.
How to Prepare for APPSC Group 1 Exam?
How to Prepare for APPSC Group 1 Exam
Organization Name
Andhra Pradesh Public Service Commission (APPSC)
Post Name
Group 1
Category
Preparation Tips
Application Mode
Online Process
Selection Process
Written Examination (Prelims and Mains), Personal Interview
Job Location
Andhra Pradesh
Official Website
psc.ap.gov.in
APPSC Group 1 Syllabus
Before we go into the APPSC Group I preparation tips and study plan, we have to be conscious of the APPSC Group I Exam Syllabus and Exam Pattern.
APPSC Group I Prelims Exam Syllabus

Paper I: General Studies

History & Culture
Constitution, International Relations, Politics, and Social Justice
Indian and Andhra Pradesh Economy-Planning
Basic Characteristics of Indian Economy
Characteristics/ Future of AP Economy
National Income
Indian Agriculture
Financial Institutions
Geography
General Geography
Social
Economics

Paper II: General Aptitude

General Mental Ability, Administrative and Psychological Abilities
Science and Technology

Current Regional, National, and International Events

APPSC Group I Mains Exam Syllabus

English (SSC Level)

Reading Comprehension
English Grammar
Translation
Press Release/ Appeal
Report Writing
Writing on Visual Information
Formal Speech
Precis Writing
Essay
Letter Writing

Telugu Medium

Essay
Elaboration of Poetic or Verse
Precis Writing
Application Writing
Report Writing
Dialogue Writing or Dialogue Skills
Comprehension
Formal Speech
To Prepare the Statements for Publicity Media.
Letter Writing
Debate Writing
Translation
Telugu Grammar

Paper-I (General Essay)

General Essay

Paper-II

History and Cultural Heritage of India with Emphasis on 20th Century History of India.
Social History of Andhra Pradesh, i.e., the history of various social and cultural movements in Andhra Pradesh.
The general overview of the Indian Constitution.

Paper III
Andhra Pradesh Economy's present status, its strengths, and its weaknesses.
Planning in India and Indian Economy.
Land Reforms and social changes in Andhra Pradesh after Independence.
 Paper IV

General awareness of modern trends in life sciences.
Role and Impact of Science & Technology in the growth of India with importance on the applied aspects.
Development and environmental problems.

  

Paper V

Logical Reasoning & Quantitative Aptitude.
Passage Analysis.
Data appreciation and Interpretation, Quantitative Aptitude, and Problem-solving.
Data Analysis and Interpretation of diagrammatic data.
APPSC Group 1 Exam Pattern
The APPSC Group 1 recruitment will be at three levels. Applicants should take APPSC Group 1 Prelims, Mains, and Interview.
APPSC Group 1 Prelims Exam Pattern
APPSC Group 1 Prelims

(Objective Type)

Paper I General Studies  & Paper-II General Aptitude

240 Questions- Paper-I 120 Question and Paper-II 120 Question
Each Question Carries 1 mark
Duration 4 hour

APPSC Group 1 Mains Exam Pattern

APPSC Group 1 Mains

(Descriptive Type)

Consist Of 7 Paper- Each Paper for 150 Marks

Telugu
English
Paper I- General Essay
Paper II-History, Culture & Geography of India & AP
Paper III- Politics, Constitution, Governance, Law & Ethics
Paper IV- Economy and Development of India & AP
Paper V- Science and Technology

APPSC Group 1 Interview
Interview
Candidates who qualify in the mains exam will be called for the interview.
How To Crack APPSC Group 1 Exam On First Attempt?
The first and foremost thing that an aspirant has to do before one begins to prepare for any competitive exam is divide and rule. Nothing to be confused about. After going through the syllabus and exam pattern you must have got an idea about the topic you were strong at and weak at. Now, list them out separately and start with topics you have to work hard.
Also, because everyone's understanding ability is different. Determine which plan, such as a day plan, an hour plan, or a month plan, best suits your daily schedule. Now, stick to it as much as you can. Newspapers, books, and articles should all be included in your daily reading plan. To pass any competitive exam, you must be able to manage your time effectively. It is also necessary to work on it. So, your main goal is to pass the APPSC Group 1 Exam on the First Try, and the best way to achieve this is to be patient, hardworking, and practice. You should practice until you are perfect.
APPSC Group 1 Exam Study Plan
Throughout your preparation, your study plan should guide and motivate you.
We advise candidates to take up a study plan which helps for parallel study. This means one has to cover the main syllabus while preparing for the prelims.
Previous years question papers and taking mock tests is must be included in your study plan
Accuracy and speed are key to getting a good score in the exam.
Do not get stressed, stay calm then only you can grasp the concepts easily.
It should be learning of the concept. So, to tackle any question that is asked in the exam.
When the prelims exam is near try to keep the mains exams syllabus aside and sit on to revise all the topics of the APPSC Group 1 prelims exam. However, there will be at least 20 days from prelims to mains.
If possible go for daily revision is also important.
 Get rid of old methods of solving problems. Get yourself updated with the new methods through the sources available on the internet.
Do not lose your confidence.
Also, equal rest and health are required.
APPSC Group 1 Subject Wise Preparation Tips
English/ Telugu: These will be the scoring subjects. Brush up basics and work on grammar and comprehension. Reading and writing make these sections easy to deal with. Practice daily to score well.
General Ability: It is nothing but tests your mental ability and how quickly you can solve the problem. Sharpen your brain to grasp the power of understanding the question a single read.
General Science
All candidates must read Andhra Pradesh APSCERT Textbooks helps to concentrate on this section. It will assist in improving knowledge of the subjects of General Science, Biology, Physics, and Chemistry. Refer books you studied from Class 6 to Class 10 because they cover all of the important topics in the General Science subject. They're an excellent way to get ready for General Science. If you are an English Medium candidate, you can use the NCERT textbooks on Science to prepare for the exam, the majority of the questions are taken directly from these books.
History of India 
There are three subtopics in this section for which candidates should prepare. Ancient, Medieval, and Modern Indian History are among the topics covered. All test takers should pay special attention to subjects such as Indian Political, Indian Economics, Indian Literature, Social, Art, Cultural, and Architectural aspects of history while studying for the Indian History exam.
Current Affairs
It's critical to read at least two newspapers every day. You must read one Telugu newspaper to stay up to date on current events in Andhra Pradesh, and you must also read an English newspaper. Reading an English newspaper can help you gain a better understanding of current events on a national and international level.
Best Books For APPSC Group 1 Exam
Best Books for APPSC Group 1 Prelims Exam
Books
Authors
NCERT Text Books
–
AP SCERT Text Books
–
Quantitative Aptitude Book
R S Agarwal
Indian Polity
M. Laxmikanth
CBSE Text Books on Disaster Management
–
Daily Newspaper
–
Good current affairs magazine
–
NIOS Textbooks on Environment
–
Best Reference Books for APPSC Group 1 Mains Exam
A History of the Freedom Movement in India Vol. I & II.
Tarachand
Writing Social History.
Sumit Sarkar
The Andhras through the Ages.
K. Balendu Sekharan
Early History of the Deccan
Bhandakar
Fundamentals of Mathematical Statistics
S.C. Gupta and V.K. Kapoor
Analytical Reasoning
M.K. Panden
Statistics
Elhance
Do follow our website @ freshersnow.com  for more updates on APPSC Group 1  Exam.
How to Prepare for APPSC Group 1 Exam? | FAQs
How many papers will be in the APPSC Group 1 Prelims Exam?
There will be two papers in the APPSC Group 1 Prelims Exam.
What are the subjects in the APPSC Group 1 Prelims Exam?
There are two subjects in the APPSC Group 1 Prelims Exam they are General Studies & General Aptitude.
Is the APPSC Group 1 Exam tough?
No, the APPSC Group 1 Exam is not tough, If you Prepared well.
Where can I get APPSC Group 1 Exam preparation tips?
Candidates can get the APPSC Group 1 Exam preparation tips from Freshersnow.Com.