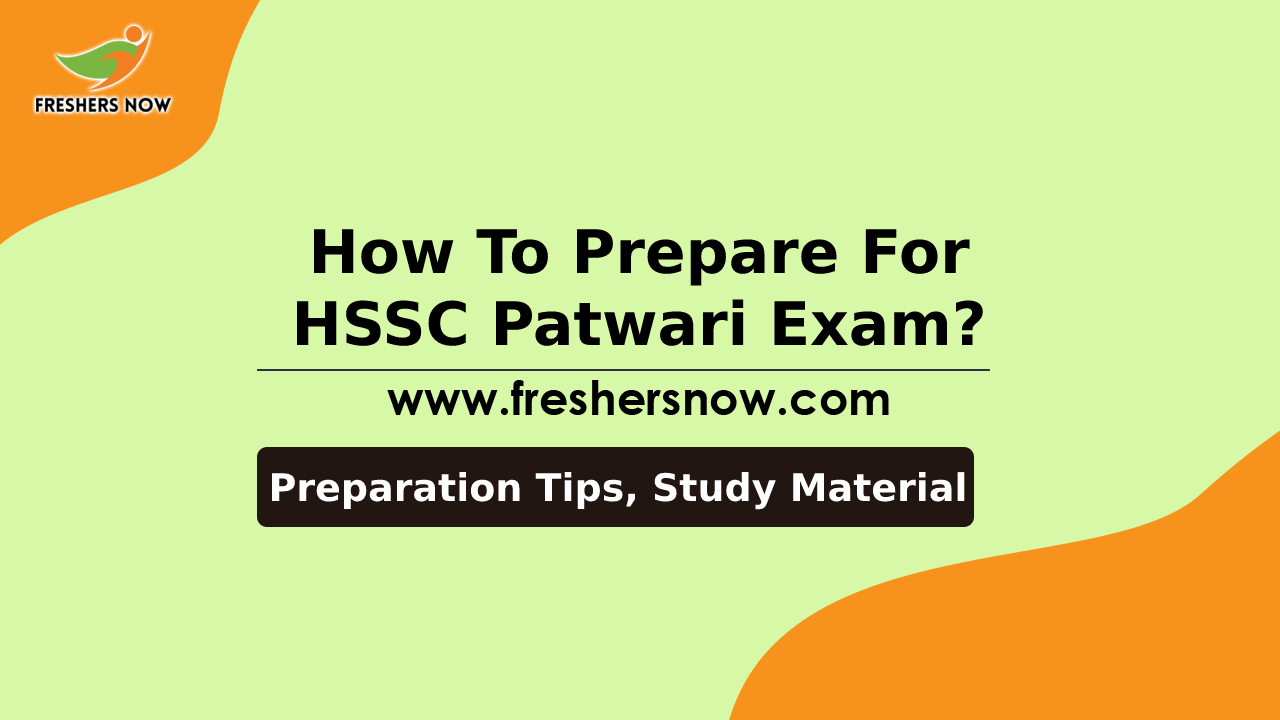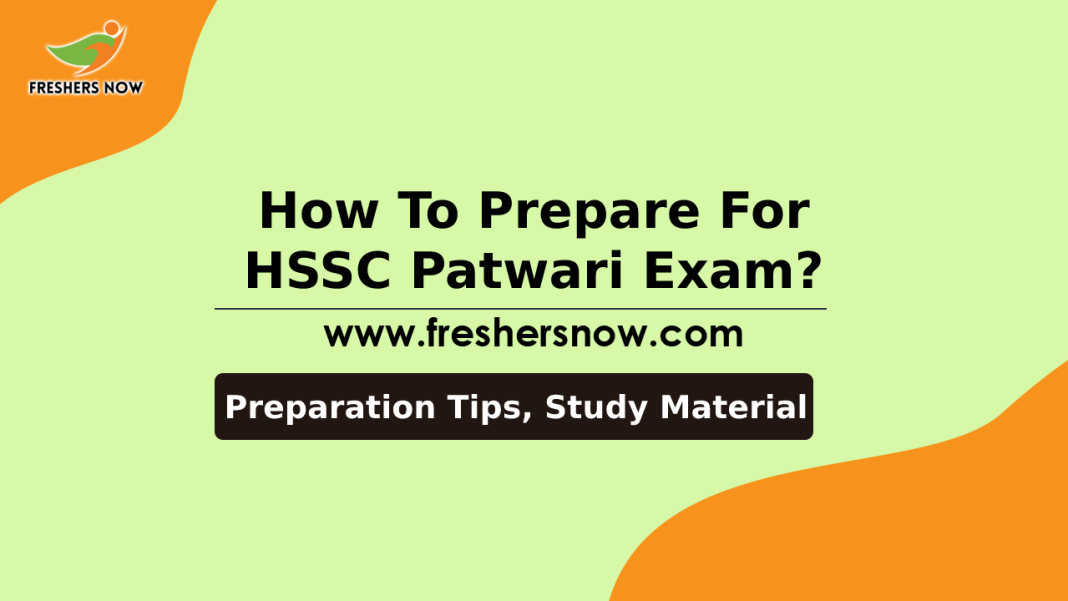 How To Prepare For HSSC Patwari Exam? Preparation Tips, Study Material: Candidates who applied for the HSSC Patwari Exam are confused about How to prepare for the HSSC Patwari Exam? Well, this article is going to clear all your worries. As it is a state-level exam, candidates need to be prepared beforehand and start up their preparation. Though the seats are limited, candidates need to adopt the right strategy to crack HSSC Patwari Exam. So, to help the candidates we have come up with preparation tips, preparation strategies, section-wise preparation tips, study materials, etc. To know all the details and extra information about the HSSC Patwari Exam, you need to be thorough with the article. Scroll down to know the information.
HSSC Canal Patwari Preparation Tips
HSSC Canal Patwari Preparation Tips
Organization Name
Haryana Staff Selection Commission (HSSC)
Post Name
Patwari
Category
Preparation Tips
Job Location
Haryana
Official Site
www.hssc.gov.in
How To Crack HSSC Patwari Exam?
How To Prepare For HSSC Patwari Exam? is the question running in many candidates' minds. Haryana Staff Selection Commission conducts HSSC Patwari Exam, candidates need to work hard and invest all their efforts. This section will be a quick guide in giving a few key points to crack HSSC Patwari Exam. Here you go:-
To begin with, candidates need to thoroughly will all the basic parameters given by the concerned authority.
Secondly, Candidates should know the exam paper format to understand the style of the paper.
Thirdly, By checking the exam format, candidates get clarity to divide the weak topics
Fourthly, Understand every weak topic by spending an extra hour and mastering it.
Finally, Practice all the previous question papers and try to solve them
HSSC Patwari Exam Pattern
Haryana SSC Patwari Selection
S. No
Name of subject
Number of Marks
1
Written Test
90
2
Socio-Economic criteria and experience
10
3
Total
100
HSSC Patwari Exam Preparation Strategies
To have effective preparation, one needs to include strategy in their exam preparation. In this section, you can find the HSSC Patwari Exam preparation strategies. Check out them:-
Look over the syllabus prescribed by the authority and its structure of it.
Be wise in picking up the standard books to study for your exam preparation
Note down the points of all the sections. This helps to memorize all the point
Give time for your revision. This will helps to recheck what you have prepared
Solve the mocks papers as many you can. This helps to rectify your mistakes
HSSC Patwari Exam Preparation Tips
In this section, we have given HSSC Patwari Preparation Tips to help candidates crack the HSSC Patwari exam. Check out them:-
Knowledge of the mark scheme for each topic
Good to start your preparation so early
Allot a particular time and work hard
Follow the expert's advice in your preparation
Involve in some stress relief activities
Always start your preparation with a fresh mind
Keep on analysing yourself with mock papers
Build up the confidence level before you start
Always be motivated in what you preparing
Take an upright preparation strategy in your exam preparation
Section-wise Preparation Strategies for HSSC Patwari Exam
After knowing the HSSC Patwari Exam syllabus, people might check for the concerned subject preparation tips. This helps to read the subject with ease and understand the concepts very clearly. Here we have given section-wise preparation tips for the HSSC Patwari Exam follow them in your preparation and crack your HSSC Patwari Exam
HSSC Patwari Exam for Current Affairs
Study these affairs date-wise and section-wise for quick revision
Concentrate on the main subject but the news
To enlarge your knowledge of current affairs, go with mock tests
HSSC Patwari Exam for History of Haryana
Let the basic concepts be your strengths
Follow the right books to understand the concepts
Go with the mark allotted for each subject
HSSC Patwari Exam for Hindi
Check the basic concepts and work on it
Learn the question types with sample papers
HSSC Patwari Exam for English
Be thorough with English grammar rules.
Flip through different kinds of books and learn new words and phrases.
Have a daily practice of skimming through the newspapers
HSSC Patwari Exam for Computer
Regular practice computer knowledge quizzes.
Solve the questions you are 100% sure about first and later go with other questions
A grip on keyboard shortcuts and MS Office.
HSSC Patwari Exam for Science
Stay updated with the latest scientific technologies and news.
Follow every scientific event in India, and go through the basic science involved in it.
Preparing from the best books is enough.
HSSC Patwari Exam for Mathematics
Thorough with basics and make efficient use of shortcuts and tricks.
Familiar with concepts from scratch and memorising formulas by heart.
Solve as many questions as possible to improve problem-solving skills.
HSSC Patwari Exam for Reasoning
Start solving from core concepts, then move on to more versatile.
Improve logical skills and avoid making assumptions.
Command over all the concepts of reasoning.
HSSC Patwari Exam for General Awareness
Indulge a habit of flipping through newspapers, magazines, and articles regularly.
Try attempting as many mocks as you can
Stay in touch with current affairs
Last-minute Preparation Tips for HSSC Patwari Exam
Candidates must take these last-minute preparation tips for HSSC Patwari Exam in their exam preparation. These will be a boost up to crack HSSC Patwari Exam without any confusion and tension at the last moment. Check out these last-minute preparation tips for HSSC Patwari Exam:-
 Never start any new concepts before few days before the exam
Clear all your doubts about every concept and be confident
Set up some targets and go accordingly
Take up some intervals and refresh yourself
Strictly follow your timetable
Attempt online quizzes
Be motivated and stay positive
To conclude, We have given HSSC Patwari Exam preparation strategies, preparation tips, section-wise preparation tips, and last-minute preparation tips the above. Indulge some concentration and work hard to see yourself as HSSC Patwari. For further articles and information stay tuned to our website www.freshersnow.com