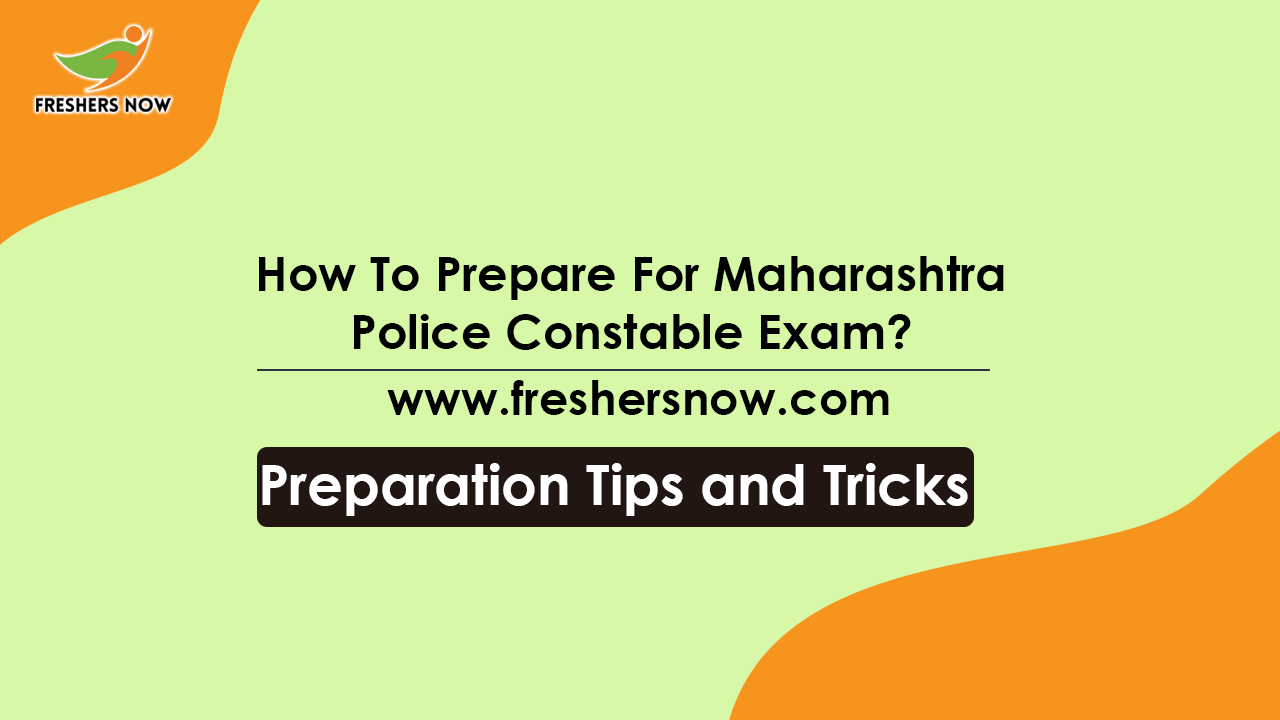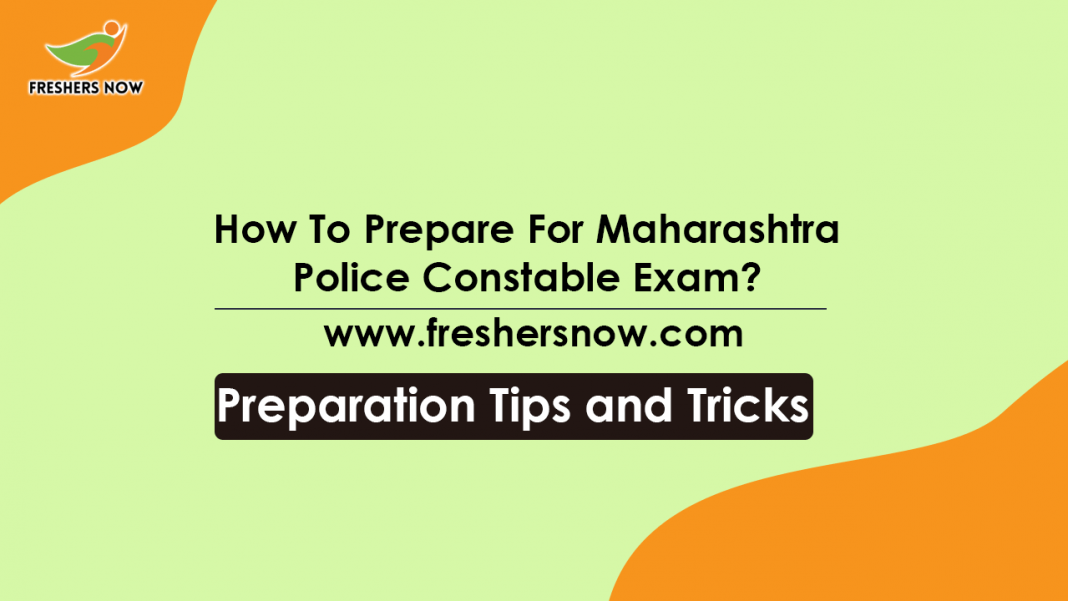 How To Prepare For Maharashtra Police Constable Exam? Preparation Tips, Study Plan: This article is solely for the candidates who are planning to participate in the Maharashtra Police Constable Exam. Before starting the Maharashtra Police Constable Exam Preparation, candidates should check out this article. This article carries all the required Preparation Tips, Study Plan, Exam Pattern to be followed while preparing for the Maharashtra Police Constable Written Examination.
Every year, thousands of people apply for the Maharastra Constable Exam in the hopes of landing a government job. Check out this page and know how to prepare and crack the Maharashtra Police Constable Examination in the first attempt itself. Because the level of competition for this exam is really quite high due to a large number of applicants, candidates must develop a proper strategy and begin preparing for the exam as soon as possible in order to score well in all three phases.
How To Prepare For Maharashtra Police Constable Exam? Preparation Tips, Study Plan
 Maharashtra Police Constable Exam Preparation
Organization Name
Maharashtra Home Department
Post Name
Police Shipai/ Constable
Category
Preparation Tips
Selection Process
Written Test, Interview
Job Location
Maharashtra
Official Site
mahapariksha.gov.in
Maharashtra Police Constable Exam Pattern
Type Of Exam
Topics
Marks/ Questions
Duration
Objective Type Questions
Mathematics
25
90 Minutes
General Knowledge & Current Affairs
25
Intellectual Test
25
Marathi Grammar
25
Total
100 Marks/ 100 Questions
Maharashtra Police Constable Syllabus
Maharashtra Police Constable Topic Wise Syllabus 
Mathematics

Time and Work
Percentage and Discount
LCM & HCF
Profit and Loss
Ratio and Proportion
Mensuration
Geometry
Area and Volume

General Knowledge & Current Affairs

Geography
Computer Knowledge
Science and Technology
Politics
Economics
History
National and International Current Affairs
Sports
National Movements
Literature and Tradition

Intellectual Test

Verbal and Non-Verbal Reasoning
Analogies
Alphabet Series
Word Arrangement
Coding-Decoding
Syllogism
Blood Relation
Classification
Sentence Arrangement
Data Interpretation
Reason Assertion
Problem Solving
Direction Test

Marathi Grammar

Grammar
Idioms
Correct Use of Language
Vocabulary
Synonyms and Antonyms
Maharashtra Police Constable Exam Preparation Tips
Focus on your goal, regular reading, and preparation that is selection-oriented will only help you pass this exam.
Make a regular Maharashtra Police Constable Exam Study Plan for your exams.
Make study notes while preparing for the exam.
Take one topic at a time and practice more questions on it so that it becomes your exam strength.
Trying to follow the completion of the entire syllabus. Take your time to go over important exam topics again.
The process of revision focuses more on the Topic, which you have to strengthen at. Pay no attention to the topic on which you have spent so much time preparing.
Give important topics a higher priority.
Read Related News & Articles to the Post.
Taking mock tests and going through all the Maharashtra Police Constable Previous Questions Papers must be included in your daily study plan.
Maharashtra Police Constable Study Plan
We've outlined a few Maharashtra Police Constable Study Plan tips, as well as how your study plan should be constructed and what should be included. For better preparation, double-check and follow up.
Build a Study Plan: As a person's abilities/ capabilities differ, so does their grasping level. A day plan, week plan, hour plan, and month plan are all available. Select the Maharashtra Police Constable Exam Study Plan that best suits you. Also, your study plan must start with the topics you are weak at.
Time Management: The study plan's goal is to help you develop time management skills that will help you in the future. Avoid putting your schedule with activities that will interfere with your preparation strategy. Always remember that working smarter is preferable to working harder. As a result, spend the majority of your time practicing important topics.
Practice Previous Year Papers and Mock Tests: Regular practice will help in the development of time management skills and the achievement of a high score. To improve your speed and accuracy, make it a habit to practice previous year's papers and mock tests. Solve previous year's papers because many of the questions are the same. They can assist in identifying and scoring important topics.
Practice Daily To Improve Knowledge:  Developing a daily reading habit can benefit you in a variety of ways as you prepare for the Maharashtra Police Constable Exam. To develop a solid understanding of General Knowledge and Current Affairs topics, try to read every day. Keep your General Awareness up to date by reading magazines, newspapers, yearbooks, and other relevant content.
Keep an Eye On Physical and Mental Health: As the Police Constable Selection includes a Physical Test, it is important to maintain your weight in accordance with the commission's weight standards for your height. Also, start working out several weeks, if not months, before the physical fitness test. Do not put off preparing until the last minute.
Books To Prepare For Maharashtra Police Constable Exam
Maharashtra Police Constable Books
Books 
Authors/ Publication 
Police Bharti IMP Notes 2020- 2021: Parikshela Jata (Marathi)
Yashoda Publications
Police Constable Previous Question Bank (English Version)
–
Sampoorna Police Constable Bharti Pariksha (Marathi)
K Sagar Publication
Maharashtra Police Constable Exam 2020 Paperback
Dr. Chandresh Agrawal And Nandinibooks
Dnyandeep Maharashtra Police Bharti Paripurna Margadarshak
Mahesh Shinde, Rajkumar Shivaji Maharanvar
Paperback Marathi Police Bharti Book
Pro. Sanjay Nathe
We hope, reading through this article is worth your time. Also, follow us at freshersnow.com for more Maharashtra Police Constable Exam details such as exam date, admit card, and more.