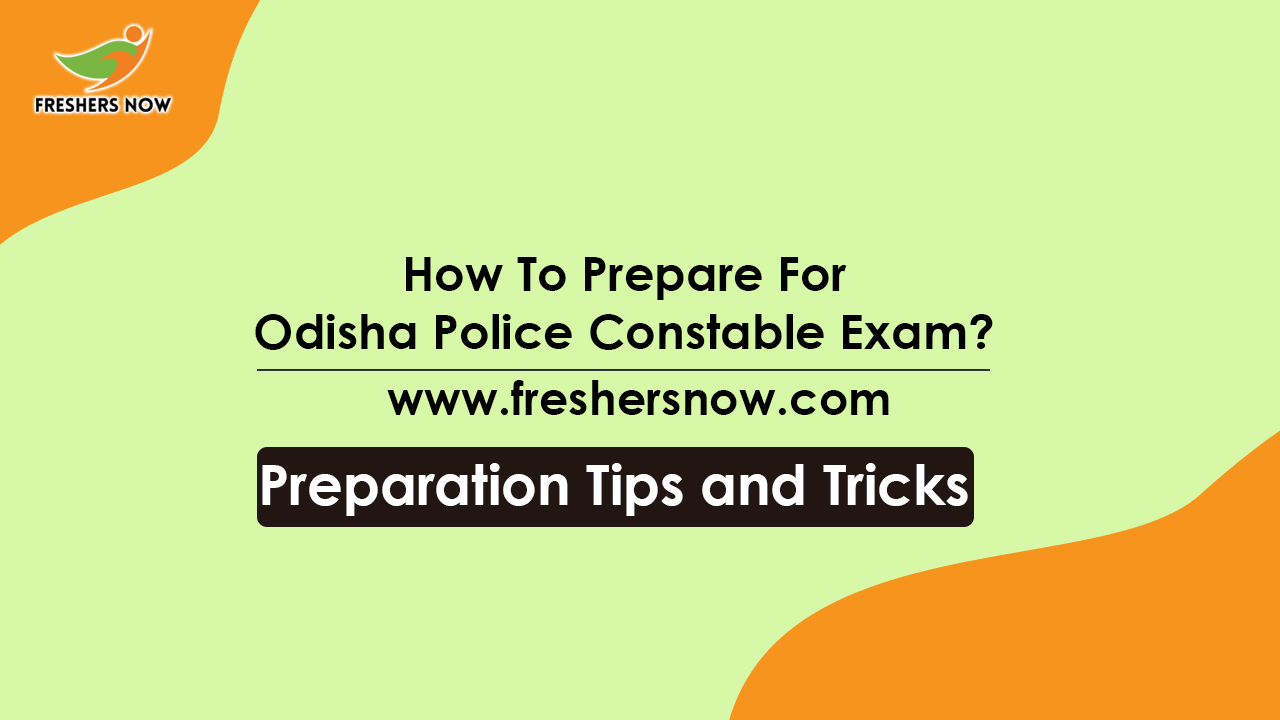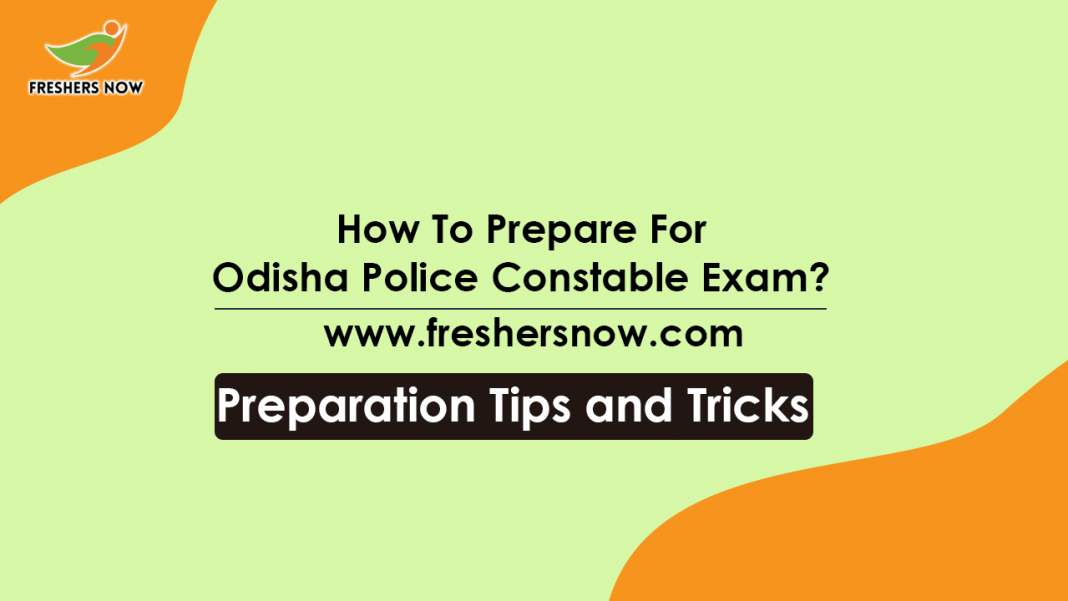 How To Prepare For Odisha Police Constable Exam? Preparation Tips, Study Plan: Want to head start your Odisha Police Constable Exam Preparation? It's very easy if you plan your Odisha Police Constable Test Preparation with our article. From our article, you people can get the answer to your general questions like "How To Prepare For Odisha Police Constable Exam?", "What are the simple Odisha Police Exam Preparation Tips" to be followed and you can also get the "Best Odisha Police Constable Reference Books". Follow the given Odisha Police Constable Exam Study Plan to boost up your score.
How To Prepare For Odisha Police Constable Exam?
| | |
| --- | --- |
| Organization Name | Odisha Police |
| Post Name | Constable |
| Category | Preparation Tips |
| Location | Odisha |
| Official Site | odishapolice.gov.in |
How To Crack Odisha Police Constable Exam?
To succeed in any competitive exam, one must be well-versed in the syllabus and exam format. A person must be familiar with all aspects of the exam, including the available positions, the syllabus, and the sub-topics. There will be strong competition for the position of Odisha Police Constable. As a result, your level of preparation should be preferable to that of the competition. Fitness is important for the Physical Measurements Test, just as it is for the Constable level.
There's no need to be worried, the written test will cover the basics of the subject. All of this is done to test the applicants' knowledge, but you must obtain qualifying marks in the written exam to proceed to the next stage. Just see the syllabus and exam pattern first and then the preparation tips given below.
Latest Odisha Police Constable Exam Pattern
The following stages must be completed by candidates who are eligible to participate in the Odisha Police Constable selection process. They are as follows:
Computer-Based test
Physical Measurement Examination
Physical Efficiency Test
Check below for the Odisha Police Constable Written Exam Pattern.
There will be a 0.25 negative marking.
The duration of the exam is two hours.
Except for the questions in Odia, the examination will be conducted in English.
Parts
Subject 
Max. Marks
Time
Part-A

Comprising of questions from Odia language, English language, arithmetic, aptitude test, and logical reasoning, etc.
The standard of questions shall be +2 standard

100
2 Hours
Part-B
Odisha Police Constable Exam Syllabus
Odisha Police Constable Topic Wise Syllabus
English Language

Reading Comprehension
Fillers
Cloze test
Tenses
Adjectives
Adverbs
Prepositions
Sentence Completion
Paragraph Completion
Antonym and synonym
Grammatical Error based question

Odia Language

Usage of Words.
Reading Comprehension
Translation
Fill in the Blanks
Vocabulary Test
Correct Usage of words.
Idioms & Phrases.

Aptitude and Logical Reasoning

Blood Relations
Syllogism
Coding-Decoding
Directions
Non-Verbal Series
Clocks & Calendars
Number Ranking
Decision Making
Analogy
Statements & Arguments
Arithmetical Reasoning
Alphabet Series
Statements & Conclusions
Cubes and Dice
Embedded Figures
Data Interpretation
Mirror Images
Number Series

Arithmetic

Simplification
Time and Work
Square Root and Cube Root
Simple Interest
Numbers
Permutation and Combination
Volume and Surface Area
Ratio and Proportion
Problems on H.C.F and L.C.M
Banker's Discount
Partnership
Pipes and Cistern
Problems on Ages
Time and Distance
Logarithm
Allegation or Mixture
Probability
Average
Chain Rule
Compound Interest
Surds and Indices
Height and Distance
Boats and Streams
Area

General Knowledge

Indian Economy
Indian History
Artists
Countries and Capitals
Environmental Issues
Indian Politics
Biology
Current Affairs of national and international
level
General Science
Literature
Indian Parliament
Civics
Heritage
Geography
Famous Books & Authors
Tourism
Inventions and Discoveries
Famous Places in India
Rivers, Lakes and, Seas
Sports
Famous Days & Dates
Odisha Police Constable Exam Study Plan
Candidates who want to pass the Odisha Police Constable Examination must follow the strict timetable. Candidates should consider some tips and tricks in addition to the study plan in order to cover the entire syllabus. In this section, we will assist you in creating a suitable Odisha Police Constable Exam Study Plan. So, take a look.
Preferable Study Plan: The syllabus is already known to the candidates. Now divide the topics into two groups, listing the ones on which you have to work hard and the ones on which you must have some knowledge. Now, sit down to create a schedule that gives each subject equal weight.
Clear Basics: Begin your preparation by researching all of the basic topics or concepts using all available resources, such as the internet, books, and newspapers. It is necessary to learn the concepts of solving the problem rather than simply reading it. Having a firm grasp of the concepts will enable you to deal with any type of exam question.
Notes: Taking notes while studying for any competitive exam is a good idea. While studying, take note of the important points that will help you revise them later. As a result, we advise candidates to keep notebooks and note down all key information.
Practice: As the saying goes, "Practice Makes Man Perfect," so put in the time to get the benefits. The police constable exam is more than just a knowledge test, candidates must also be physically fit to be selected. As a result, it is important that the candidates stick to their fitness routine by following the basic exercises, yoga, and eat a well-balanced diet.
Mock Test: To test yourself or to analyze your preparation, taking mock tests is required. The study plan should include the mock test whether it's once a week or twice a week as your comfort. This could help you prepare for the actual examination. The mode of the mock test will be the same as the actual exam. So, try to take the mock test at least once a week.
Previous Question Papers: Practicing the Odisha Police Previous Question Papers is a must. By doing so you will get to know the toughness of the questions, types of frequently asked questions, and more.
Revision: Two- Three weeks before your exam should be only spent on revising all the topics. That's how you should plan a timetable. Last-minute learning will be of no use.
Odisha Police Constable Exam Preparation Tips
Start with the fundamental of all the subjects.
Try to cover the whole syllabus without making a choice.
Your preparation should be valid, do not just read it, take a grip over the concepts.
Recognize your ability to learn the concepts such as one may grasp the concepts by listening,  one may through reading, and the other may through watching. So, know your ability and then start your preparation.
Stay constant in your study plan. Prioritize nothing till you reach the goal.
A daily or a weekly revision is advisable.
Mock test and previous years' question paper will make you aware of the types of questions asked.
Confidence and hard work are the weapons to beat out any competitive exam.
Candidates are suggested to follow all the steps we have given above to reach your goal easily. Do not lower your standards, maintain confidence and patience throughout your practice. Equal health and fitness are necessary so try to maintain them on a daily basis. Follow our website @ freshersnow.com for more information on Odisha Police Constable Exam.
How To Prepare For Odisha Police Constable Exam? | FAQs
Is there a negative marking in Odisha Police Constable Exam?
Yes, there is a 0.25 negative marking in Odisha Police Constable Exam.
Is it easy to crack the Odisha Police Constable Exam?
Yes, it is easy to crack the Odisha Police Constable Exam by following a perfect study plan.
How many marks will the Odisha Police Constable Exam be conducted for?
The Odisha Police Constable Exam will be conducted for 100 marks.
Where can I get the Odisha Police Constable Exam preparation tips?
Candidates can get the Odisha Police Constable Exam preparation tips from Freshersnow.Com.