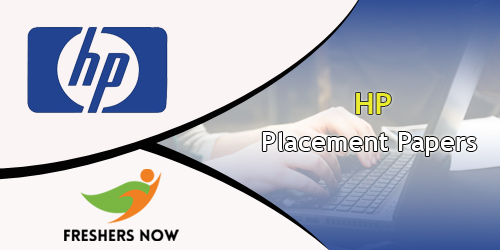 Have you cleared HP Written Test and trying to clear the Interview Process? then this entire post is for you because we have arranged the HP Interview Questions 2018 for the sake of people which is very helpful at the time of preparation for interview round. This article is helpful for both fresher and experienced candidates. Check the Technical and HR interview questions for freshers and experienced people and selection process for the Hewlett Packard Company. This is a bright opportunity for the contenders who are interested to shine their future in IT Sector. Work hard with the help of given HP Interview Questions.
HP Interview Questions 2018
Those who have cleared the written test are only promoted to interview round. Now its time to prepare for the interview round. In the interview round you have to face Technical round at the same time HR round. Prepare according to the HP Interview Questions 2018, without doubt, you will reach the success. Our major purpose for sharing this information is to help the aspirants in their preparation time.
Hewlett Packard Interview Questions 2018 Details
| | |
| --- | --- |
| Name Of The Company | Hewlett Packard |
| Qualification | Any Graduates/ Post Graduates |
| Job Location | Across India |
| Category | Interview Questions |
| Official Website | www.hp.com |
HP Interview Questions 2018 For Freshers And Experienced Candidates
HP Off Campus 2018 is the very good chance for the people to kick-start their career. All you want to do is get ready and gain some knowledge and skills to attend the interview. We all know that Hewlett Packard is one of the top most leading company. At the same time, competition will be more expensive without having proper preparation it is impossible to crack the selection process. Most of the competitors are worrying about HP Interview Questions for the sake of contenders we have updated in this post at free of cost. Those who had applied for the HP Recruitment 2018 should clutch this offer.
Technical Interview Questions 2018 For Freshers
In this section, you will get the most asking technical interview questions.
DBMS Interview Questions For Freshers
What is database?
What is a Database system?
What is Data Model?
What is normalization?
What is Object Oriented model?
What is DML Compiler?
What is Fully Functional dependency?
What is 3NF?
What is 5NF?
What is an attribute?
What is Stored Procedure?
What is Join?
What is order by clause?
What is Identity?
What are the uses of view?
What is a Trigger?
What is RDBMS KERNEL?
List some of the properties of a relation?
What is Data Independence?
What is a view in SQL? How to create one
Web Technologies Interview Questions For Freshers
What is HTML?
What is the difference between an ID selector and CLASS?
Do all HTML tags come in pair?
What is an attribute?
What are the advantages of XML DOM Document?
List the various font attributes used in style sheet
What is XML DOM Document?
What are the benefits of XML?
What are the advantages of CSS?
What is a well-formed XML document?
What is XML?
What is XPath?
What is CSS?
What is the difference between XML and HTML?
What are the limitations of CSS?
Can we have empty XML tags?
What are some of the common lists that can be used when designing a page?
What is the difference between HTML elements and tags?
What is head in HTML document?
What is "Semantic HTML?"
What does DOCTYPE mean?
What's the difference between standards mode and quirks mode?
What are properties of style sheet?
Do all character entities display properly on all systems?
Which tag is used to find the version of XML and the syntax?
What is Contextual Selector?
Is CSS case sensitive?
Hewlett Packard HR Interview Questions 2018 For Freshers
Tell me about yourself
Tell me your strengths and weaknesses
Explain about your short term goals as well as long-term goals
What is your life goal
Why should you choose this stream in BE. Tech
Why do you think this company is a good fit for you?
Where do you see yourself 5 years from now?
What is your salary expectation?
Why do you think you are a good fit for us?
Do you have any questions for us, our company?
HP Technical Interview Questions For 2018 Experienced Candidates
Some of the regularly asked HP Technical Interview questions for the experienced candidates is available in this section.
Hewlett Packard SAP Interview Questions For Experienced:
What is an EERP?
List the Different Modules in SAP.
Mention where are the t-code name and program values stored? Explain how can you find a list of all t-codes in the SAP system?
What are variables?
Can we run business warehouse without SAP R/3 implementation?
Mention what do you mean by datasets?
Tell me briefly about SAP.
What is Metadata, Master data and Transaction data
Is SAP A Database?
How many SAP Sessions can you work on at a given time?
What are the different SAP products?
Mention what are the different types of variables?
What are the different types of ERP's?
What is a transaction in SAP terminology?
Mention some of the setbacks of SAP?
What is NetWeaver?
CNS Interview Questions For Experienced:
Which layers are network support layers?
What is half-duplex?
What is full duplex?
What are the different transmission media?
Define cyclic redundancy check (CRC)
What do you mean by CSMA?
What is Firewalls?
List the steps involved in creating the checksum
What is TELNET?
What is the difference between ARP and RARP?
What is mesh network?
What is multicast routing?
What protocol is used by DNS name servers? Justify
What is ARP, how does it work?
Differences between Hub, Switch and Router?
What are layers in OSI model?
HP HR Interview Questions 2018 For Experience
Why do you think should we take you for this job?
What makes you interested in this job?
What is your greatest achievement?
You do not have all the experience we are seeking for this position.
Would you like to work in a team or on your own?
Did you think of changing your present job earlier? If yes, what do you think made you stay back?
Why do you want to work at our company?
Would you lie for the company?
What was the toughest decision you ever had to make?
What changes would you make if you came on board?
Looking back on your last position, have you done your best work?
Why are not you earning more money at this stage of your career?
How could you have improved your career progress?
Along with the given HP Interview Questions 2018, you can also check HP Mock Test And Online Test for better preparation. freshersnow.com is the correct way to find out all the accurate details.
Crack TCS NQT with the best course & faculties | Learn everything for TCS NQT at your own pace with 1-1 live doubt support. Click Here