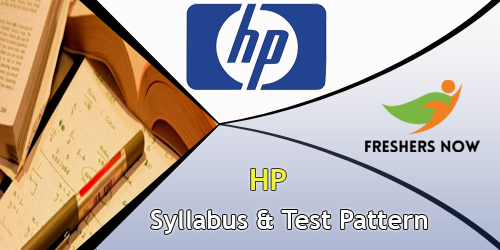 HP Syllabus 2020 & Test Pattern PDF Download: If you are looking for Hewlett Packard Syllabus PDF, then you can find the Latest HP Exam Syllabus 2020 for HP Aptitude Online Test. With the help of the HP Exam Pattern and Hewlett Packard Selection Process, candidates can easily cover all the topics.
Many of the Candidates are looking forward to cracking the Hewlett Packard Placement Test. For all such candidates, this Latest HP Syllabus PDF will help. Candidates can even find the Detailed Chapters in each topic and section.
HP Syllabus 2020 & Test Pattern – Overview
| | |
| --- | --- |
| Name Of The Company | HEWLETT-PACKARD (HP) |
| Qualification | Any Graduates/ Post Graduates |
| Job Location | Across India |
| Category | IT Syllabus |
| Official Website | www.hp.com |
★★ You Can Also Check ★★
 Hewlett Packard Selection Process 2020
Every year the Hewlett Packard conducts three recruitment rounds. Only those contenders who clear the Written Exam with good qualifying marks are only called for next level that in an interview (Technical, HR).
Written Round
GD
Technical Round
HR Round
Hewlett Packard Test Pattern 2020
The complete details related to HP Test Pattern have been updated here. Hence, go through the below table perfectly and get some idea about the Test Pattern of Hewlett Packard Company.
| | |
| --- | --- |
| Number Of Sections | Number Of Questions |
| Quantitative Ability | 12 |
| Verbal | 8 |
| Technical | 35 |
The total time duration for the HP Aptitude Online Written Test is 75 Minutes
There is no negative marking for each wrong answer so you can attempt all the questions without any confusion
Topic Wise Hewlett Packard Syllabus 2020
The entire section wise Hewlett Packard Syllabus is available in this section. So candidates without late check the syllabus and start your preparation for getting the job.
Technical Subjects
C (Preprocessor, Conditional Expressions, Constants, Data Types, Declarations, File Access, Pointers, Standard Input, and Output, Storage Management, Typedef, Variable Names, Structures, Unions, Bit-fields, C Functions, C Data Types, C Operators, Control Flow Statements)
C++ (Arrays, Classes, Constants, Functions, Inheritance, Interfaces, Macros, Namespaces, Operators and Statements, Pointers, Templates, Input-Output Streams)
Java (Data Types, Operators, Applets, Arrays, Collections, Exception Handling, Input-Output Streams, Interfaces, java.io Package, java.lang Package, java.util Package, Packages, Serialization, Strings, Threads).
Quantitative Ability
Time and Work
Time and Distance
Problems on L.C.M and H.C.F
Simple Interest
Areas
Problems on Trains
Boats and Streams
Partnership
Ratio and Proportion
Averages
Pipes and Cisterns
Simple Equations
Quadratic Equations
Mixtures and Allegations
Percentages
Problems on Numbers
Compound Interest
Volumes
Profit and Loss
Odd Man Out
Races and Games
Numbers and Ages
Simplification and Approximation
Indices and Surds
Mensuration
Permutations and Combinations
Probability.
Verbal
Articles
Adjectives
Gerunds
Homophones
Identify the Errors
Identify the Sentences
Plural Forms
Nouns
Odd Words
Prefix
Prepositions
Sentence Pattern
Suffix
Tag Questions
Tense
Synonyms
Antonyms
Prepositions
Sentence Completion
Active and Passive Voice
Spelling Test
Spotting Errors
Passage Completion
Substitution
Sentence Arrangement
Transformation
Idioms and Phrases
Sentence Improvement
Para Completion
Joining Sentences
Error Correction (Underlined Part)
Error Correction (Phrase in Bold)
Fill in the blanks
HP Syllabus 2020 & Test Pattern PDF Download: Click Here
Hence, the overall HP Syllabus 2020 Test Pattern is available on this page. Those who had applied for the HP Recruitment 2020 can take a look at this entire article. Freshers Jobs is the best source to get more details related to MNC Companies Recruitments, Syllabus & Test Pattern, Placement Papers, Interview Questions, Off Campus and Mock Test and Online Test.
★★ Check All IT Companies Syllabus Here ★★
HP Syllabus 2020 – Frequently Asked Questions
What are the Topics in Hewlett Packard Written Test?
Quantitative Ability, Verbal, Technical are the HP Selection Rounds.
What is the Time Duration HP Aptitude Online Written Test?
The total time duration for the HP Aptitude Online Written Test is 75 Minutes.
Is there any Negative Marking in the HP Written Test?
There is no negative marking for each wrong answer.
How Many Questions will come from Hewlett Packard Technical Test?
Candidates will have to answer 35 Questions to complete Hewlett Packard Technical Test.