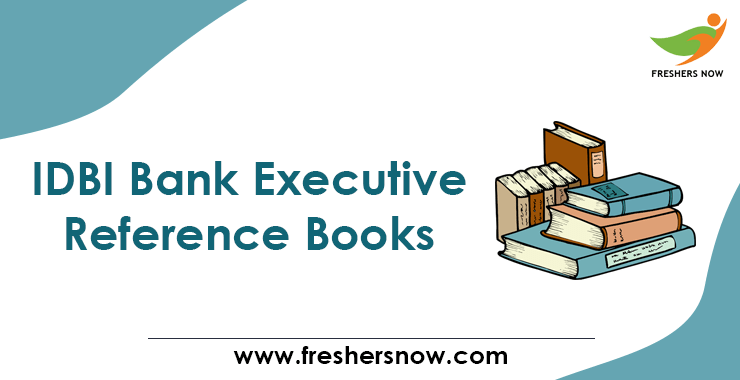 IDBI Bank Executive Reference Books | Best Books for IDBI Executive Exam | IDBI Bank Executive Best Books To Prepare For All Subjects:  We are here to recommend you a few IDBI Bank Executive Best Books, which are going to be really helpful to prepare as well as to crack the IDBI Executive Exam. As the competition has been increased in every exam, all candidates feel a burden during the preparation, and selecting the Recommended Books for IDBI Executives Exam. So, we are here to relieve the stress of aspirants by providing all the required IDBI Bank Executive Best Book details.
As the IDBI Bank Executive Exam consists of the English Language, Quantitative Aptitude, and Reasoning Ability topics, we have arranged the subject-wise IDBI Bank Executive Preparation Books. Interested candidates can scroll down and check through all the information presented
★★ Best Reference Books for All Competitive Exams ★★
Best Books For IDBI Bank Executive Exam English Language
Nowadays English is the most used language in our daily life, whether it is personal or professional. IDBI Bank Executive Test tests the knowledge and level of excellence in English. For that, the candidates must prepare hard to crack the exam.
| Books | Author's Names |
| --- | --- |
| Objective General English | S.P. Bakshi |
| Word Power Made Easy New Revised & Expanded Edition | Norman lewis |
| General English | A.K.thakur |
| An Innovative Approach to Vocabulary | R.P.Sharma |
The English Section of IDBI Bank Executive Contains
Active/ Passive Voice
Adverb
Cloze Test
Comprehension
Errors Spotting
Fill in The Blanks
Grammar
Idioms & Phrases
Para Jumbles
Reading Comprehension
Sentence Formation
Sentence Improvement/Correction
Sentence Rearrangement
Subject-Verb Agreement
Synonyms & Antonyms
Tenses
Verb
Vocabulary
★★ Practice English Questions & Answers ★★
Best Books For IDBI Bank Executive Quantitative Aptitude
Math is a subject that includes many formulas, shapes, different theories etc. Which are not easily understandable by everyone. As a bank executive, a person requires a good knowledge of numbers.
| Books | Author's name |
| --- | --- |
| Quantitative Aptitude for Competitive Examinations | R S Aggarwal |
| Fast Track Objective Arithmetic | Rajesh Verma |
| Numerical aptitude for banking | Dilhan publications |
| Quicker Mathematics | M.TYRA |
The quantitative aptitude section contains
Average
Computation of Whole Numbers
Data Interpretation
Data Sufficiency
Decimals and Fractions
Discount
Fundamental Arithmetical Operations
Mathematical Operations
Mensuration
Number Systems
Percentage
Probability
Problems on Age
Profit & Loss
Quadratic Equations
Ratio & Proportion
Relationship Between Numbers
Simple & Compound Interest
Simplification/Approximation
Time & Distance
Time & Work
★★ Practice Aptitude Questions & Answers ★★
IDBI Bank Executive Reasoning Ability Books
Logical Reasoning requires critical thinking to solve the questions in the exam, reasoning ability is to test the candidate's thinking capacity. So, candidates must work hard to prepare themselves to be able to answer those questions in a shorter time.
| Books | Author's Names |
| --- | --- |
| Wiley's Verbal Ability and Reasoning for Competitive Examinations | P.A. Anand |
| A Modern Approach to Verbal & Non-Verbal Reasoning | R.S. Aggarwal |
| Logical And Analytical Reasoning | R.Gupta |
| Analytical reasoning | A.K.panday |
The section of Reasoning Ability contains the following topics
Alphanumeric Sequence Puzzle
Analogy
Arithmetical Reasoning
Blood Relations
Coding-Decoding
Direction based problems
Inequalities
Input-Output
Order and Ranking
Puzzles
Seating Arrangements
Series Completion
Situation Reaction Test
Statement – Conclusions/Arguments
Syllogism
Theme Detection.
★★ Practice Reasoning Questions & Answers ★★
Hope this article has been helpful to you to choose the IDBI Bank Executive Reference Books. We wish you all the best for your exam! for more updates keep checking this page and our website @ Freshersnow.Com.