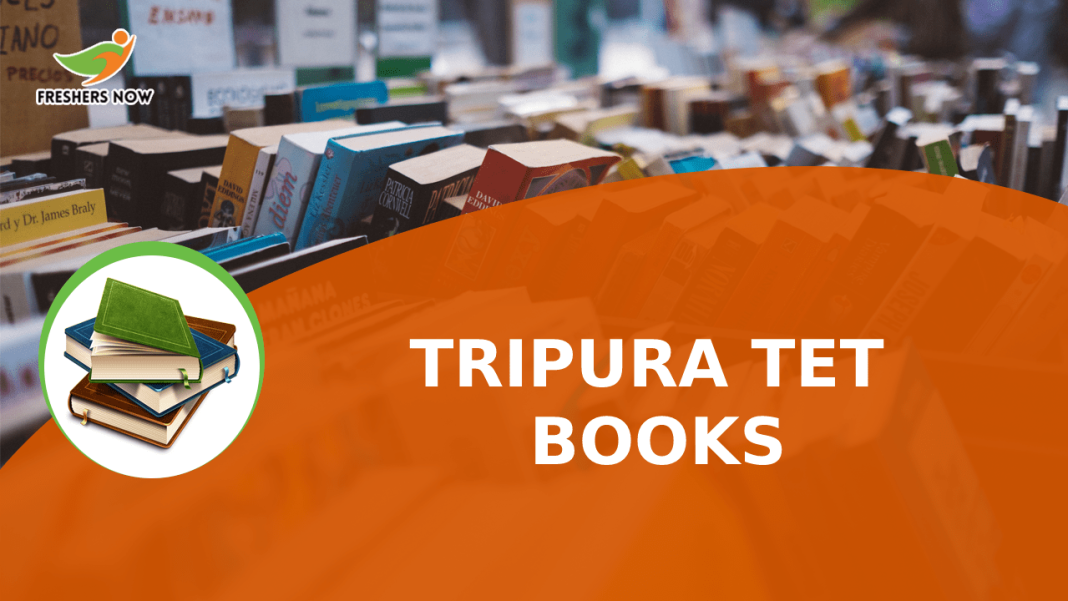 Tripura TET Books | Tripura TET Best Reference Books | Tripura TET 2021 Books for Preparation of Paper 1 and Paper 2: Here you are with the Tripura TET Books. The article is presenting you with the Tripura TET Best Reference Books. Ace your preparation with these best books for Tripura TET Exam. consider noting down the list of Tripura TET Best Books. Do not miss any section of the article as this is going to provide you with a brief description of the Tripura TET I & TET II Guide Book that you are going to choose.
★★ Best Books ★★
Subject-wise TTET Books
Child Development & Pedagogy S.K.Mangal, P.D.Pathak, Educational Psychology(Shiksha Manovigyan) by Dheer Singh Dhabhai, Class XIth & Class XIIth N.C.E.R.T. Psychology Books
Mathematics – R.S.Aggarwal, Daksh, Upkar
Science – Lucent Publication, Daksh, Upkar
S.S.T. (Social Science) – Arihant Publication, Upkar, Rai Social Studies
English – Lakshya
Environmental Science – Garuda, Sikhwal by N.M.Sharma & Vandna Joshi
Tripura TET Exam Books
This is the section that gives you the description of the Tripura TET Exam Books. Take a note and do not miss any section of the article. These Tripura TET Best Books will be a guiding tool to ace your preparation.
Tripura TET Child Development and Pedagogy
CTET Child Development and Pedagogy for Paper 1 and Paper 2 – Pearson
Helps in studying the basic concepts related to child development. Very comprehensive.
Child Development and Pedagogy for Paper 1 and Paper 2 – Shyam Anand
The best description of different topics. The pattern of the question is well aligned.
Tripura TET English
Alama's Assam Year Book 2021 for Competitive Examinations – Er Sakir Alam
Contains the explanation of all the important topics of English. Detailed orientation of the content.
English for CTET – DT Editorial Services
Source of good practice material for objective questions. Designed according to question resource.
Tripura TET Bengali
Tripura Primary TET – 1 for Bengali – S Saha
Good for reference forth language sources. Details are given accurately.
TET Primary Guide for Bengali – Prof Amar Das
Best for practicing the objective questions. Pattern-based content is included.
Tripura TET Mathematics
TPSC Mathematics – Goutam De
Basic concepts are well explained. Foundational coverage of the topics is in detail.
Mathematics for TET – Pearson
Master the objective-based questions. Edge detailing of the concepts.
Tripura TET Social Studies
TET Social Studies – Anshul Mangal
Highlights all the foundational concepts in detail. Conceptual details are well presented.
Social Studies for TET – Sandeep Kumar
Very precise explanation. Clear understanding of the contexts.
Tripura TET Environmental Studies
Environmental Studies for CTET -DT Editorial
Comprises a lot of practice questions and previous year papers. Guiding tool.
TET Environmental Studies – Arihant Experts
Subject in a more lucid manner. The description is well defined.
Tripura TET best books are all yours. Take a note and start implementing it in your preparation. Good luck with your exam. Stay connected for more informative articles  freshersnow.com