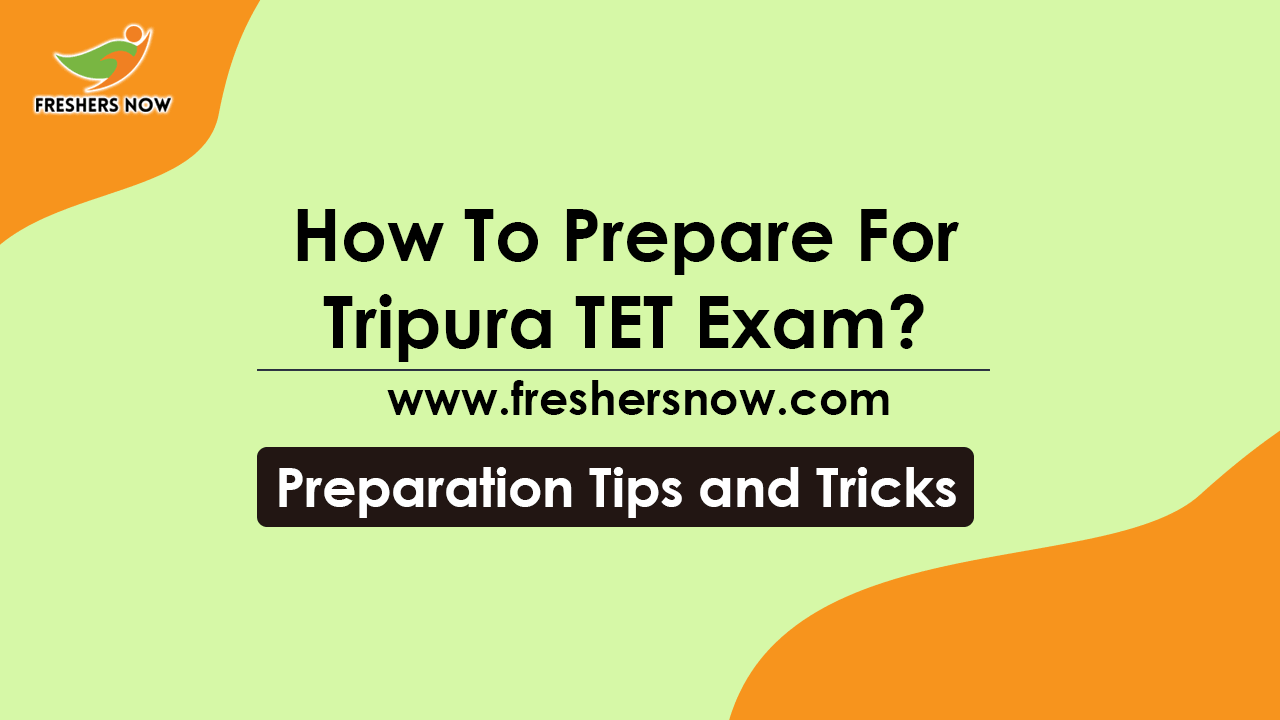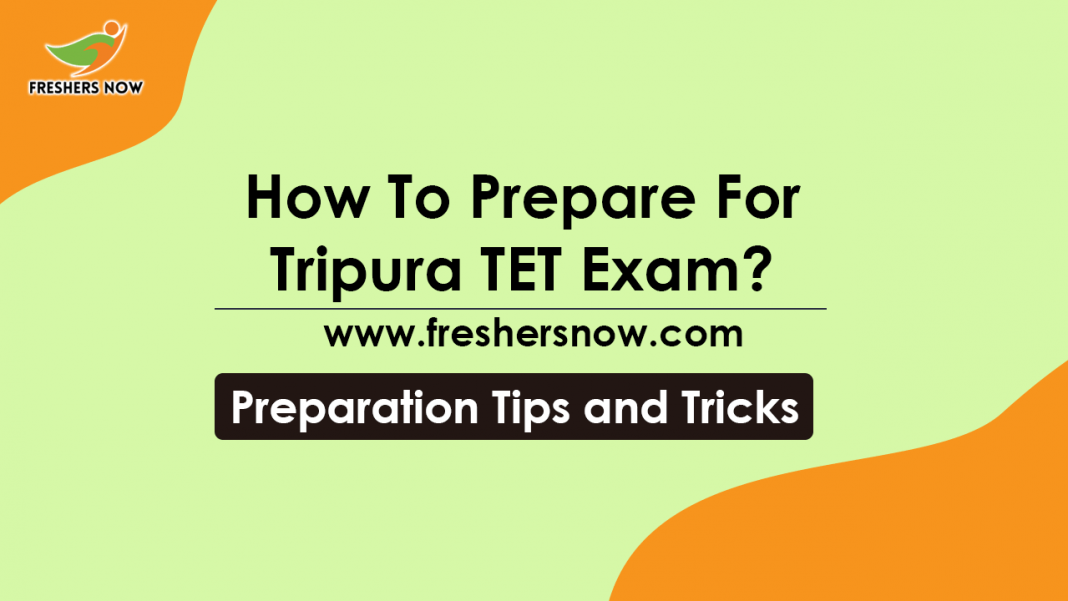 How To Prepare For Tripura TET Exam? Preparation Tips, Study Plan: Applicants of the Tripura Teachers Eligibility Test (TET) should read this entire article to learn about Tripura TET Preparation Tips, Study Plans, and Strategies. We will show you how to study for the Tripura TET. Before you begin your preparations, read through this page for tips. We've gathered all of the information you'll need to prepare for the Tripura TET and organized it into sections below.
How To Prepare For Tripura TET Exam?
How To Prepare for Tripura Teachers Eligibility Test
Organization Name
Teacher Recruitment Board, Tripura (TRBT)
Post Name
Teachers Eligibility Test (TET)
Category
Preparation Tips
Mode of the Exam
Online
Official Site
trb.tripura.gov.in
What is Tripura TET Exam?
Teachers Eligibility Test (TET) will be conducted by the Teacher Recruitment Board of Tripura (TRBT) to recruit candidates for government teaching positions. As a result, the applicants will be evaluated in three stages, depending on the grade level the candidate wants to teach. To pass this exam with ease, one must be well-versed in teaching techniques. Candidates must also have a well-thought-out strategy for preparing for the Tripura Teachers Eligibility Test Exam.
Tripura TET Syllabus
Any competitive exam candidate must be well-versed in the exam syllabus. So, here is the Tripura Teachers Eligibility Test (TET) Syllabus, which is divided into topics. Check it out.
Child Development and Learning
Child Development and Learning

Growth, development, and maturation: their relationship with learning.
Principles of development of childhood.
Impact of heredity and environment on development: nature-nurture controversy.
Socialization process of the child (with special reference to teachers, parents, and peers).
Domains of development up to late childhood: physical, cognitive, emotional, social, moral, and language
Theories of Piaget, Kohlberg, Carol, Chomsky, Vygotsky, and Rogers in relation to child development (with critical perspectives)
Concept of child-centric and activity-based education
Individual differences: attitude, aptitude, interest and intelligence, their measurement.
Theories of intelligence: Spearman, Guilford, Thurstone, and Gardenar-critical perspectives of the construct of intelligence
Gender and education: gender roles, gender bias and educational practice with special reference to child development
Mental health of the child: adjustment and behavioral problems during childhood
Understanding differences among children based on diversity of language, caste, gender, community, religion
Distinction between Assessment for learning and assessment of learning: school-based assessment, continuous and comprehensive evaluation, perspectives and practices
Formulating appropriate questions for assessing readiness level of learners for enhancing learning and critical thinking in the classroom, measuring learning outcome of the learners.

Concept of Inclusive Education and Understanding Children with Special Needs

Concept of exceptional children and children with special needs (CWSN).
Addressing learners from diverse backgrounds including disadvantaged and deprived
Concept of learning disability (LD), addressing the needs of children with learning disabilities
Addressing the gifted, creative, specially-abled learners (mentally retarded and physically challenged).

Learning and Pedagogy

Process of thinking and learning of children: causes of children's failure to achieve success in
school performance with respect to quality education.
Basic approaches to learning: processes of teaching and learning, children's strategies of learning,
learning as social activity, social context of learning, child as a problem solver and scientific investigator
Alternative concepts of learning in children: understanding children's 'errors' as significant steps in the learning process
Cognition and emotions: concept and nature of cognition, basic emotions, characteristics of childhood emotionality
Motivation and learning: factors contributing to learning-personal and environmental, the influence of motivation in learning
Class-room management: the creation of non-threatening learning environment, managing behavioral problems in class-room
Punishment and its legal implications, rights of a child.
Guidance and counseling: concept, nature, and types.

Language I  English
Language Comprehension
i) Two passages, one from prose/drama and the other from poetry with questions on:

comprehension
inference
grammar
test of vocabulary

(ii) Test of grammatical knowledge on the following items:

Concord
Question tags
Prepositions
Tense and time
Determiners
Phrasal verbs
Gerunds
Error identification
Modals
Degree of comparison
Transformation of sentences

Pedagogy For Language Development

Language acquisition and learning
Principles of language teaching
Language skills – strategies to develop them
Critical perspective on the role of grammar in learning a language for communicating ideas in oral and written form
Challenges of teaching language in diverse classrooms – language difficulties, errors and disorders
Introduction to English Phonology-vowels and consonant classification as per IPA, syllable division
Teaching-learning materials: textbooks, multimedia materials, ICT, multilingual resources of the classroom
Evaluating language comprehension and proficiency in LSRW (listening, speaking, reading and writing)
Strategies for teaching children with special needs (CWSN)
Remedial teaching

Language-II (Bengali/ Kokborok)
Bengali/ Kokborok
For the Language-II section, candidates can choose Bengali or Kokborok as their subject. This section will consist of  Language Comprehension and Pedagogy for Language Development
Mathematics
Content

Geometry
Shapes, spatial understanding, solids
Measurement
Numbers
Arithmetic
Fractions
Weight
Time
Data handling
Patterns
Money

Pedagogical Issues In Mathematics

Language of Mathematics.
Community Mathematics.
Nature of mathematics, understanding children's thinking and reasoning, place of mathematics in curriculum, the historical development of mathematics, great mathematicians and their contributions (Indian and World)
Methods of teaching mathematics, inductive and deductive method, analytical and synthetic method, project method, laboratory method
Instructional material in mathematics, TLM in mathematics, mathematics laboratory, mathematical puzzle
Evaluation, the concept of a continuous and comprehensive evaluation
Problems in teaching mathematics
Error analysis and related aspects of learning and teaching
Diagnostic and remedial teaching

Environmental Studies
Content

Family and Friend
Work and Play
Plants and Animals
Food
Health and Hygiene
Shelters
Travel
Water
Air
Soil
Energy
Environmental Characteristics of Tripura
Environmental Protection
Things we make and do

Pedagogical Issues In Environmental Studies

Concept and scope of environmental studies
Significance of environmental studies.
Integrated approach in environmental studies.
Scope and relation of environmental studies to science and social science.
Comprehensive and continuous evaluation.
Teaching material-aids.
Approaches of presenting concepts.
Environmental studies and environmental education.
Learning principles.
Activities.
Discussion.
Continuous and comprehensive evaluation (CCE).
Problems.
Tripura Teachers Eligibility Test Exam Pattern
Let's also see the Tripura TET Exam Pattern.
T-TET Paper – I 
Question Paper T-TET Paper-I will have 150 Multiple Choice Questions (MCQs)
Each question carries a 1 (one) mark.
There will be no negative marking.
Question papers will be in English and Bengali only (other than language Papers).
All OMR Answer Sheets for marking answers and instructions etc. will be in English only.
In case of any discrepancy or confusion concerning the two versions of question papers, the English version will be treated as the authentic/ final.
| | | |
| --- | --- | --- |
| Name of the Subject | Number of Questions | Number Of Marks |
| Child Development and Pedagogy | 30 MCQs | 30 Marks |
| Language I (English) | 30 MCQs | 30 Marks |
| Language II (Bengali) | 30 MCQs | 30 Marks |
| Mathematics | 30 MCQs | 30 Marks |
| Environmental Studies | 30 MCQs | 30 Marks |
| Total | 150 MCQs | 150 Marks |
T-TET Paper – II 
Total questions in Tripura TET paper-II are 150.
Questions are objective in nature and candidates need to attempt the paper in two and a half hours.
The maximum number of marks that candidates can secure in the exam is 150.
Tripura TET Paper-II is divided into four sections.
The first three sections are compulsory.
For the fourth section, candidates have three choices.
Name of the Subject
Number of Questions
Number Of Marks
Child Development and Pedagogy (Compulsory)
30 MCQs
30 Marks
Language I (English):  Compulsory
30 MCQs
30 Marks
Language II (Bengali): Compulsory
30 MCQs
30 Marks

For Mathematics and Science Teachers: Mathematics and Science
For Social Studies Teachers: Social Studies

60 MCQs
60 Marks
Total
150 MCQs
150 Marks
Tripura TET Study Plan
Know Your Ability: Knowing one's ability should be the first step in preparing for any exam. In detail, one will be able to cover one topic from all subjects in a single day, whereas the other will finish one subject in two or three days. So, determine your capacity and stick to a single study plan. In addition, candidates after two are three days of following your study plan. Examine your understanding. If you're not happy with it, try coming up with a new study strategy for the Tripura TET Exam.
Practice On Regular Basis: Candidates who practice regularly to improve their exam preparation will receive qualified marks in the examination. Students should devote time to specializing in their weak subjects and practicing regularly.
Clear Basic Concepts: Candidates should concentrate on understanding the fundamental concepts of all subjects. So, candidates must first understand the basic concepts to solve the questions.
Organize Time: Candidates should create a schedule for the best and most efficient time to time preparation. They should divide their activities and give more time to their studies in their daily schedules. All the topics which you are weak at, start with those topics. Then you can revise the topics you are strong on.
Make Simple Notes: For the higher level of exam preparation, candidates should maintain simple notes throughout the preparation. Candidates should take extensive notes on all of the details and subjects. It will be useful at the time of revision.
Prefer Previous Question Paper: Candidates should use the previous year's question paper as a guide when preparing for the exam. Candidates will be able to understand the structure and pattern of the question paper by consulting the previous year's paper. By going through the Tripura TET Exam Question Papers one can get to know the toughness of the paper, the types of questions asked, and repeated questions.
Mock Test: Taking mock tests is necessary for a contender at regular intervals. This helps you analyze your level of preparation and the topic you should still work on.
Tripura TET Preparation Tips
Firstly, candidates need to collect all the Tripura Teacher Eligibility Test Study Material.
Finalize your study plan whether a day plan, an hour plan, or a month plan.
For a teacher, Learn, Speak, Read and Write (LSRW) is vital.
Reading newspapers, magazines and books help in the improvement of knowledge.
Daily preparation, going through the previous year's question paper, and taking mock should be in the study plan.
Prioritize nothing till you reach your goal.
Practice, patience, and hard work will land you at the best place.
The last few days will be for your revision. Do not leave any topic while studying. Try to understand the concepts.
Tripura TET Exam Reference Books
Best Books For Tripura TET Exam
Books 
Author/ Publisher
Child Development and Pedagogy
CTET Child Development and Pedagogy for Paper 1 and Paper 2
Pearson
Child Development and Pedagogy for Paper 1 and Paper 2
Shyam Anand
Bengali
Tripura Primary TET – 1 for Bengali
S Saha
TET Primary Guide for Bengali
 Amar Das
English
Alama's Assam Year Book 2021 for Competitive Examinations
Er Sakir Alam
English for CTET
DT Editorial Services
Social Studies
TET Social Studies
Anshul Mangal
Social Studies for TET
Sandeep Kumar
Mathematics
TPSC Mathematics
Goutam De
Mathematics for TET
Pearson
Environmental Studies
Environmental Studies for CTET
DT Editorial
TET Environmental Studies
Arihant Experts
Follow our website @ freshersnow.com for more latest updates on Tripura TET Exam.
How To Prepare For Tripura TET Exam? | FAQs
Is there a negative marking in Tripura TET Exam? 
No, there is no negative marking in Tripura TET Exam.
What is the mode of the Tripura TET Exam?
The mode of the Tripura TET Exam is offline, pen and paper-based exam.
How many questions will be in Tripura Teacher Eligibility Test Paper I Exam?
There will be 150 questions in Tripura Teacher Eligibility Test Paper I Exam.
Is the Tripura TET Exam tough to pass?
No, the Tripura TET Exam is not tough to pass.