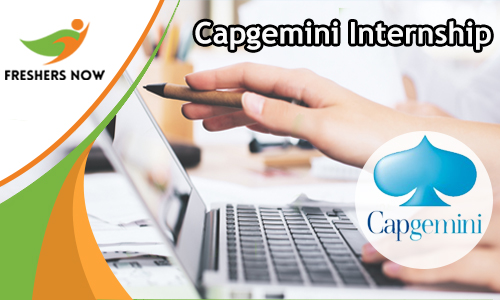 Refer the entire article very carefully and check the information regarding Capgemini Internship 2018-2019, Capgemini Stipend, Capgemini, Eligibility, Selection Process, How to apply for Capgemini Internship 2018, Capgemini Summer Internship, Capgemini Winter Internship and much more. Therefore, to get furthermore information just scroll down the current post and check the details.
Capgemini Internship 2018-2019 Overview
| | |
| --- | --- |
| Name of the Company | Capgemini |
| Qualification | B.Tech, M.Tech, MBA, B.A, B.Com |
| Eligibility | Fresher, Student |
| Program Location | Across India |
| Category | Internship |
| Official Website | www.capgemini.com |
Are you interested in a Capgemini Internship 2018-2019? Do you want to know detailed information regarding the Capgemini Internships 2018? then Capgemini is offering the best opportunity for the students. B.Tech, M.Tech, MBA, B.A, B.Com are eligible to aplly for Capgemini Intetnships 2018. We all know that the Capgemini provides a comprehensive insight into what it is like to work in the management consulting. As an Intern, candidates will have a chance to start up their career with experienced consultants.
You Can Also Check: ★ Capgemini Careers
The Capgemini Internship 2018-2019 gives you an opportunity to challenge yourself in a better and safe environment. The Capgemini will give the training to students that develop some of the skills that you need at the time of Job. As a member of the project team, you have to learn about the tools and some of the methods. In order to gain a experience in a real-life project setting candidates have to do a job as an Intern. Also, there is a chance for the candidates to choose Internship Jobs in various locations. Ahmedabad, Bangalore, Chennai, Cochin, Gurgaon, Hyderabad, Kolkata, Mumbai, New Delhi, Noida, Pune, Mysore, Guwathi etc are the locations.
Capgemini Internship 2018-2019 For Students
Many of the candidates are looking to an edge and a way to jump up their career. Also, a huge number of students are dreaming to begin their career as an Intern. So for those candidates, the current Capgemini Internship 2018-2019 is an exact opportunity. Right now, the Capgemini is looking for the Brightest and Best students. Those candidates who are passionate about the new technologies are advised to apply for the Capgemini Internship 2018 by filling your details at the time of applying the application form. Also, the Capgemini is now inviting the online applications for the students. Interesting people can utilize the golden opportunity. If you want to know furthermore updates, then refer the entire post very carefully and get the depth knowledge.
Candidates who are eager by the chance of building a real impact even at an early stage by utilizing the Capgemini Internship 2018-2019. Students are informed that you can expect to work a different of a hand of projects. Also, you can enjoy real responsibility and make a focus contribution from day one itself. Therefore, it is very easy to learn some new technologies, problem-solving, analytical, organizational along with the teamwork skills. The given technologies are very useful for your essential future. Also, it is very easy to learn new skills and some knowledge about the business trends etc. With the help of working directly with Capgemini with experts. Also, the Capgemini have many programs that enable the students to get training support and earn recognized qualifications.
Capgemini Summer Internship 2018-2019
Capgemini Summer Internships 2018-2019 are a particular benefit for the candidates with a taste of an industry. Many of the candidates are really like the Capgemini Summer Internships 2018. Even in worst cases, there is a lot of benefits of doing the Internship in a Capgemini. Also, the Summer Internship in Capgemini is very beneficial for the candidates. Because there is a lot of enjoyment in the Capgemini Company. Moreover, the Capgemini will gives an extra incentive for the students. On the other hand, students can do enjoy yourself. There is a chance to do full time by applying the Capgemini Internship 2018.
Capgemini Winter Internship 2018-2019
The Capgemini Winter Internship 2018-2019is a time that college candidate look forward as eagerly on their first week of the campus. The Capgemini Winter Internship 2018 will give a unique insight into the work management consultant. Also, the Winter Internship in Capgemini over a seven-week period. Candidates will get the chance to work with a team of experienced consultants on strategic or operational projects for their clients. As a winter intern, there is an opportunity to challenge and develop yourself.
Capgemini is a French multinational professional service and business consulting corporation. Its headquarters is located in Paris, France. The Capgemini provides IT Services and is one of the worlds largest IT Consulting, outsourcing and professional services. Over 19,000 employees in over 40 countries. Paul Hermelin is the chairmen and CEO. Also, the official website of Capgemini is www.capgemini.com. Capgemini's regional activity attaches North and South America, Northern Europe & Asia Pacific and Central & Southern Europe. Also, it services are brought through four disciplines that are Consulting, Technology, Outsourcing and Local Professional Services. The latter is delivered through Sogeti, a wholly owned subsidiary.
Capgemini Internship 2018-2018 Stipend/ Salary Details
Capgemini will give an excellent salary for the students. Depends upon your skills there is a chance to extend your internship process.
Capgemini Internship 2018-2019 Eligibility Criteria
B.Tech, M.Tech, MBA, B.A, B.Com pursuing students are eligible to apply for the internship process. Therefore, once verify the eligibility criteria details and apply.
Capgemini Internship 2018-2019 Selection Process
To select selected in the Capgemini you have to clear Online Test. After clearing the test the Capgemini will invite the students to do intern on their company. Therefore, prepare well in order to clear the selection round.
Steps To Apply For Capgemini Internship 2018-2019
At first, all the candidates need to visit the official website of Capgemini that is www.capgemini.com
After that, search for Capgemini Careers
Look for the latest Internship Jobs in Capgemini
Refer the eligibility details
If you are satisfied with eligibility then apply as soon as possible by filling your details
Hit on the submit button
At lastly, take a print out for the further reference
To Apply For Capgemini Internship 2018-2019: Click Here (Link will be update soon)
Keep visiting our website freshersnow.com frequently.
★ You Can Also Check other Internships in India ★
★ Internships in Delhi                 ★ Internships in Mumbai
★ Internships in Gurgaon            ★ Internships in Pune
★ Internships in Kolkata              ★ Internships in Hyderabad
★ Internships in Chennai             ★ Internships in Bangalore