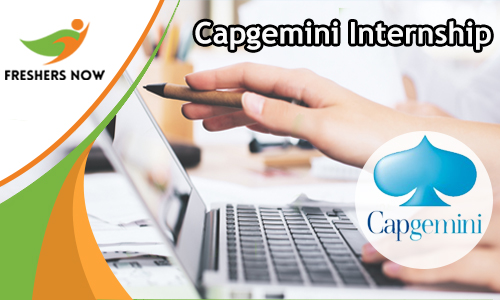 Capgemini Internship 2022 – Stipend, Selection Process & Eligibility: Aspirants must refer to the entire article very carefully and check the information regarding Capgemini Internship 2022, Capgemini Stipend, Capgemini, Eligibility, Selection Process, Capgemini Internship Registration Process 2022, Summer Internships, Capgemini Winter Internships, and much more. Therefore, to get furthermore information about Capgemini Internship Program just scroll down the current post and check the details.
The direct link for Capgemini Internship for Freshers has been made available to the end of this page. There is a chance for the candidates to choose Internship Jobs in various locations. Ahmedabad, Bangalore, Chennai, Cochin, Gurgaon, Hyderabad, Kolkata, Mumbai, New Delhi, Noida, Pune, Mysore, Guwahati, etc. You can also search for an Internships at Capgemini in these locations.
Capgemini Internship 2022 Overview
| | |
| --- | --- |
| Name of the Company | Capgemini |
| Qualification | B.Tech, M.Tech, MBA, B.A, B.Com |
| Eligibility | Fresher, Student |
| Program Location | Across India |
| Category | Internship Jobs |
| Official Website | www.capgemini.com |
Capgemini Internship 2022 For Students
Many of the candidates are looking for an edge and a way to jump up to their careers. Also, a huge number of students are dreaming to begin their careers as an Intern. So for those candidates, the current Capgemini Internship 2022 is an exact opportunity. Right now, Capgemini is looking for the Brightest and Best students. Those candidates who are passionate about the new technologies are advised to apply for the Capgemini Internship 2018 by filling in your details at the time of applying for the application form. Also, Capgemini is now inviting online applications for the students. Interesting people can utilize the golden opportunity. If you want to know furthermore updates, then refer to the entire post very carefully and get the depth of knowledge.
Candidates who are eager by the chance of building a real impact even at an early stage by utilizing the Capgemini Internship Program. Students are informed that they can expect to work a different hand of projects. Also, you can enjoy real responsibility and make a focused contribution from day one itself. Therefore, it is very easy to learn some new technologies, problem-solving, analytical, organizational along with teamwork skills. The given technologies are very useful for your essential future. Also, it is very easy to learn new skills and some knowledge about business trends, etc. With the help of working directly with Capgemini with experts. Also, Capgemini has many programs that enable the students to get training support and earn recognized qualifications.
Capgemini Summer Internship 2022 for Freshers
Capgemini Summer Internships 2022 is a particular benefit for the candidates with a taste of the industry. Many of the candidates are really like the Capgemini Summer Internships 2018. Even in the worst cases, there is a lot of benefits of doing the Internship at Capgemini. Also, the Summer Internship in Capgemini is very beneficial for the candidates. Because there is a lot of enjoyment in the Capgemini Company. Moreover, Capgemini will give an extra incentive for the students. On the other hand, students can do enjoy themselves. There is a chance to do full-time by applying for the Internship at Capgemini.
Capgemini Winter Internship 2022
Capgemini is a French multinational professional service and business consulting corporation. Its headquarters is located in Paris, France. Capgemini provides IT Services and is one of the world's largest IT consulting, outsourcing, and professional services. Over 19,000 employees in over 40 countries. Paul Hermelin is the chairman and CEO. Also, the official website of Capgemini is www.capgemini.com. Capgemini's regional activity attaches North and South America, Northern Europe & Asia Pacific, and Central & Southern Europe. Also, its services are brought through four disciplines are Consulting, Technology, Outsourcing, and Local Professional Services. The latter is delivered through Sogeti, a wholly-owned subsidiary.
Capgemini Internship 2022 Stipend Details
Capgemini will give an excellent stipend for the students. Depends upon your skills there is a chance to extend your internship process.
Capgemini Internship 2022 Eligibility Criteria
B.Tech, M.Tech, MBA, B.A, B.Com pursuing students are eligible to apply for the internship process. Therefore, once verify the eligibility criteria details and apply.
Capgemini Internship Selection Process
To select selected in the Capgemini you have to clear Online Test. After clearing the test the Capgemini will invite the students to do an intern on their company. Therefore, prepare well to clear the selection rounds.
Steps To Apply For Internships at Capgemini
At first, all the candidates need to visit the official website of Capgemini that is www.capgemini.com.
After that, search for Capgemini Careers.
Look for the latest Internship Jobs in Capgemini.
Refer to the eligibility details.
If you are satisfied with eligibility then apply as soon as possible by filling in your details.
Hit on the submit button.
At lastly, take a printout for further reference.
Capgemini Internship 2022 – Important Links
To Apply For Capgemini Internship 2022
Click Here 
Keep visiting our website freshersnow.com frequently and know the updated information about Internships at Capgemini.