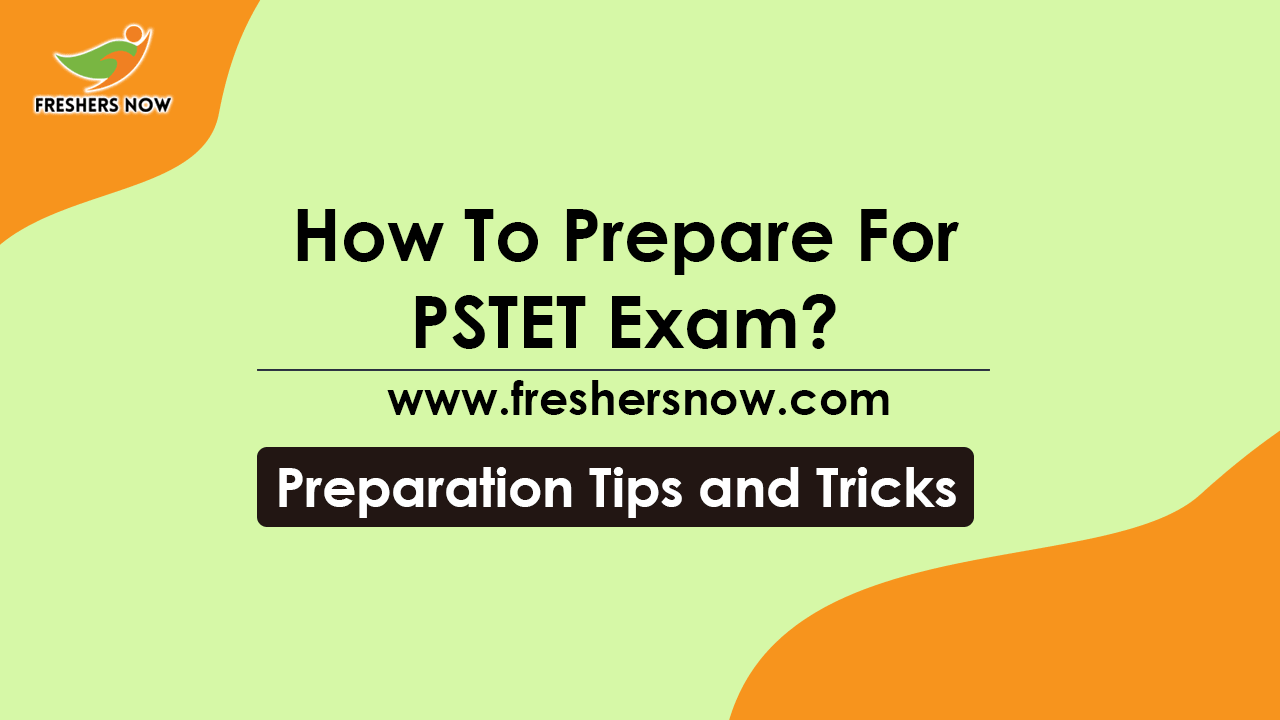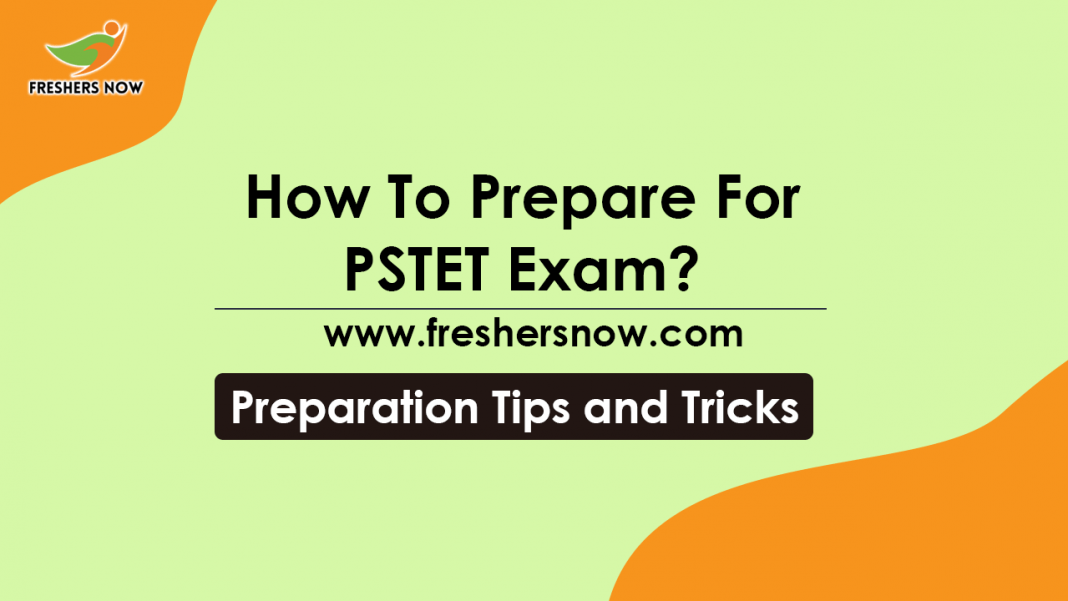 How To Prepare For PSTET Exam? Punjab TET Preparation Tips, Study Plan: This article is essential reading for candidates who want to pass the Punjab State Teacher Eligibility Test (PSTET) on their first attempt. This page was created to answer general questions like how to prepare for the Punjab TET, what preparation tips to follow while studying for the Punjab TET, and how to create a well-organized study plan. This page will provide answers to all of your questions. Hurry up and read this article until the end.
How To Prepare For PSTET Exam?
Punjab Teacher Eligibility Test
Organization Name
Punjab State Education Board (PSEB)
Name Of The Examination
Punjab State Teacher Eligibility Test (PSTET)
Conducted Under The Supervision Of 
State Council of Educational Research & Training, Punjab (SCERT)
Category
Preparation Tips
Selection Process
Written Examination, Interview
Job Location
Punjab
Official Site
pstet.net
PSTET Exam Syllabus
To begin with, have a look at the exam syllabus and pattern then will discussion on the preparation tips and strategies.
Punjab State Teacher Eligibility Test Syllabus

Child Development and Pedagogy

Concepts of child-centered and progressive education.
Critical perspective of the construct of Intelligence.
Multi-Dimensional Intelligence.
Language & Thought.
The concept of development and its relationship with learning.
Principles of the development of children.
Influence of Heredity & Environment.
Socialization processes: Social world & children (Teacher, Parents, Peers).
Piaget, Kohlberg, and Vygotsky: constructs and critical perspectives.
Gender as a social construct; gender roles, gender-bias and educational practice.
Individual differences among learners, understanding differences based on the diversity of language, caste, gender, community, religion, etc.
The distinction between Assessment for learning and assessment of learning; School-Based Assessment, Continuous & Comprehensive Evaluation: perspective and practice

Learning & Pedagogy

Child as a problem solver and a 'scientific investigator'
Alternative conceptions of learning in children & understanding children's 'errors' as significant steps in the learning process.
Cognition & Emotions
Motivation and learning
How children think and learn; how and why children 'fail' to achieve success in school performance.
Children's strategies of learning; learning as a social activity; social context of learning.
Basic processes of teaching and learning;
Factors contributing to learning- personal & environmental

Punjab State Teacher Syllabus – Language I
Language Comprehension: Reading unseen passages – two passages one drama or prose and one poem with questions on comprehension, inference, grammar, and verbal ability (Prose passage may be literary, scientific, narrative, or discursive).
Pedagogy of Language Development

Learning and acquisition.
Principles of Language Teaching.
The function of language and how children use it as a tool.
Role of listening and speaking.
The critical perspective on the role of grammar in learning a language for communicating ideas verbally and in written form.
Challenges of teaching language in a diverse classroom; language difficulties, errors, and disorders.
Language Skills.
Evaluating language comprehension and proficiency: speaking, listening, reading and writing.
Teaching-learning materials: Textbook, multi-media materials, multilingual resource of the classroom.
Remedial Teaching.

Mathematics

Division
Measurement
Weight
Time
Volume
Geometry
Shapes & Spatial Understanding
Numbers
Addition and Subtraction
Multiplication
Data Handling
Patterns
Money
LCM &HCF
Decimal
Fractions

Environmental Studies

Health, good habits & personal hygiene
Looking after the trees, plants & animals
Living and nonliving
Parts of plants
Geographical features and changes
Days and Nights
Disposal of solid waste
Local Bodies (Rural & urban)
Transportation, communication, and its development.
Pollution
National property
Our Surroundings
Parts of Body (internal & external)
Natural Resources
Our Punjab
Solar System
Basic needs
Food, resources, and care
Water
Air
Habitats, types
Clothes, Dresses & their care
Group songs
Festivals (school, family & national)
Weather & climate
Community Buildings
Diseases
First Aid
Disaster management

Science Syllabus 

Life Science.
Physical Science.
Methods and Approaches.
Evaluation in Science.

Social Studies Syllabus

Geography
Methods and Approaches
History and Political Science
Political Science
Evaluation in Social Science
Aims and Objectives of Teaching Social Studies
Punjab TET Exam Pattern
For Paper I (Primary Teachers – Classes I To V)
| | | |
| --- | --- | --- |
| Name of the Subject | Number Of MCQs | Number Of Marks |
| Child Development and Pedagogy | 30 | 30 |
| Mathematics | 30 | 30 |
| Language 1 (Hindi) | 30 | 30 |
| Language 2 (English/ Sanskrit/ Urdu) | 30 | 30 |
| Environmental Studies | 30 | 30 |
| Total | 150 | 150 |
For Paper II (Secondary Teachers – Classes VI To VIII)
| | | |
| --- | --- | --- |
| Name of the Subject | Number Of MCQs | Number Of Marks |
| Child Development and Pedagogy | 30 | 30 |
| Language 1 (Hindi) | 30 | 30 |
| Language 2 (English/ Sanskrit/ Urdu) | 30 | 30 |
| Science and Mathematics OR Social Science | 60 | 60 |
| Total | 150 | 150 |
Punjab Teacher Eligibility Test Study Plan
We now have a thorough understanding of the PSTET Exam's syllabus and exam format. In this section, we've outlined how you should study for the Punjab State Teacher Eligibility Test. Completely read it and begin putting together an effective study plan. Candidates must develop a mindset that will allow them to pass the exam on their first attempt. A positive attitude will help them prepare for the PSTET. Additionally, double-check your PSTET preparation by following the PSTET Subject Wise Study Tips steps outlined below.
Child Development and Pedagogy: Candidates should concentrate on the educational psychology of children aged 6 to 11 years old when studying for the exam. The exam question will be based on the characteristics and needs of diverse learners, interaction with learners, and the characteristics and qualities of a good learning facilitator.
Language II (Punjabi): This section is all about testing the candidate's language skills.  As a result, give this section your complete attention. Utilize the sources available online and offline.
Language II (English): Candidates should prepare for Language-2 (English) by focusing on language, communication, and comprehension skills. Keep in mind that the purpose of this section is to assess candidates' English language knowledge and comprehension. Daily reading English newspapers, books, articles, stories, and magazines required. Brush up your grammar. Also, learn at least 10 new words a day.
Mathematics: Focus on the basic concepts. Never depend on a few problems or questions related. Try to figure out the concepts of problem-solving which could help you to tackle this section easily. Also, work on time management while preparing for Mathematics.
Environmental Studies/ Social Studies and Science: Only concentrate on the basics. This section is to test the general knowledge of the candidates. Find out the questions asked in this section by going through previous question papers.
Note: Your PS TET exam study plan should include the previous year's question papers and mock tests. These will help you analyze your level of preparation also you will get to know the types of questions asked or repeated questions.
Punjab TET Preparation Tips
Do some preliminary research before you begin studying for the exam.
Make sure you give each section of the exam the same amount of time.
Examine the entire syllabus thoroughly and begin preparing the topics that carry the most weight.
Candidates should be familiar with the exam pattern because it will assist in time management.
Cover all the topics included in the syllabus.
Weekly revision is necessary.
Mock Tests or test series will let you know your knowledge before and after your preparation.
Going through the previous year's papers is important to be thorough with the types of questions you get.
Avoid doing any last-minute studying because it will create chaos and confusion.
PSTET Exam Preparation Books
Panjab State Teacher Eligibility Test Reference Books
Books 
Author/ Publisher
PSTET Child Development and Pedagogy
Child Development and Pedagogy
Shalini Punjabi
Guide to Child Development and Pedagogy
RPH Editorial Board
PSTET Language I
Books from the PSTET board
–
PSTET Language II – English
English Language,
Geeta Sahni
General English for all Competitive Examinations
S.C Gupta
PSTET Mathematics

Quantitative Aptitude
RS. Aggarwal
Complete Guide PSTET Punjab State Teacher Eligibility Test Paper II: Class (VI-VIII) Mathematics/ Science
Arihant Experts
PSTET Social Studies

The teaching of Social Studies
S.K.Mangal, Uma Mangal
PSTET Environmental Studies

Textbook of Environmental Studies for Undergraduate Courses
Bharucha Erach
Hope all the above information is useful for the applicants. Also, to know more updates on PSTET Exam follow our website @ freshersnow.com.
How To Prepare For PSTET Exam? | FAQs
Will the PSTET Exam be in objective type?
Yes, the PSTET Exam will be in objective type.
Where can I check for the PSTET Exam preparation tips?
Candidates can check the PSTET Exam preparation tips from the Freshersnow site.
Is the Punjab TET Exam tough?
No, the Punjab TET Exam is not tough.
How many marks will the PSTET Paper I exam conduct?
The PSTET Paper I exam will be conducted for 150 marks.