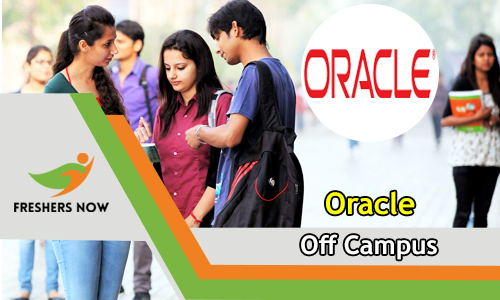 If you are in search of Oracle Off Campus 2018-2019 Drive? then you have visited the exact website. Oracle is now hiring a huge number of fresher candidates across India mainly in Hyderabad, Chennai, Bangalore, Mysore, Cochin, Maharastra, Mumbai, Delhi, Coimbatore etc. This page is made for the candidates who are willing to apply for Oracle Off Campus 2018 drive. Furthermore, at the below sections, we have equipped the useful information like eligibility criteria, Selection process, requirement process, salary details, online registration etc. Surely, this is a good opportunity for the job hunters. And, Oracle is now looking forward to the talented as well as skilled candidates. Aspirants who are willing to join this company have to meet the details and specifications given below.
Oracle Off Campus 2018-2019
In addition to this many candidates who are willing to attend the Oracle Off Campus 2018-2018 Drive can now apply through Oracle Recruitment Process. The online registration link is attached at the below. As we know that Oracle is conducting drive all across India there will be tough competition to get selected in the company. Furthermore, Oracle Recruitment Team is now looking for the efficient and talented contenders across India. Hence, people have to prepare well by downloading the Placement papers and also by attempting the online written tests. However, many of the students had done their registration process. Even though you apply for the job without practice you cannot attain any job. Therefore the aspirants who meet the specifications can now apply for Oracle Off-campus 2018-2019 through the link given below.
You Can Also Check: ★ Oracle Internships
Oracle Off Campus 2018-2019 Drive Details
| | |
| --- | --- |
| Company Name | Oracle |
| Qualification | Any Graduates/ Post Graduates, BE, B.Tech, MBA, MCA, ME, M.Tech |
| Year Of Passing | 2019, 2018, 2017, 2016 Passouts |
| Experience | Freshers |
| Job Role | Trainee engineer, Entry level Engineer, Network Engineer etc. |
| Category | Off Campus |
| Job Location | Anywhere in India |
| Official Website | www.oracle.com |
On the other hand, the contenders who are willing to join the company has to put lot more efforts to be get selected in the company. Furthermore, our website also provides you with the placement papers and the registration links. Therefore, we suggest you to download those pdfs and prepare well for the Oracle Recruitment Process as the competition is gone to be tough as it is held all over across India.
Why Oracle?
The Oracle is an American multinational corporation, headquartered in Redwood Shores, California. The company specializes primarily in developing and marketing database software and technology, cloud engineered systems and enterprise software products particularly its own brands of database management systems. In 2015, Oracle was the second-largest software maker by revenue, after Microsoft. Moreover, the company also develops and builds tools for database development and systems of middle-tier software, enterprise resource planning (ERP) software, customer relationship management (CRM) software and supply chain management (SCM) software.The Oracle Career race designs, manufactures and sells both software and hardware products. Therefore, Oracle also offers services like financing, training, consulting, and hosting services.
Oracle Careers
Options in Oracle are as limitless as your imaginations. Careers are as outstanding as their solutions and Choices are as exciting as their technologies. Oracle is providing the Industrial Solutions like
Industry Solutions
Automotive
Communications
Construction and Engineering
Financial Services
Health Sciences
Healthcare
Higher Education
Hospitality
Industrial Manufacturing
Public Sector
Retail
Utilities
Oracle Provides Unity in Diversity nature of the workforce. And, it helps in developing your skill set and extravagant activities. It teaches you how to solve the customer problems with great solutions. So, what are you waiting for? be the next great hire. Therefore, we suggest you to register through the registration links given below. To find the registration link you need see the bottom of the page.
Oracle Off Campus 2018-2019 – Eligibility Criteria
Oracle is a reputed company and one of the topmost MNC's we have ever heard. So, they cannot just take in any person and make them work. To attend the Oracle Off Campus drive one needs to meet the eligibility criteria given below.
Students who are 2018 passed outs are eligible
BE / B.Tech / ME / M.Tech in any Disciplines.
MCA with B.sc/BA/BCA/BCom are also eligible for Oracle off Campus Drive.
Students who are secured with 60% and above in their academic profiles in 10th standard, Intermediate, te and BE/Btech are eligible for Oracle off Campus Drive.
No Backlogs.
The age limit is 18 to 25 years.
Work experience should not be more than 3 years.
Marks Criteria
Therefore the students should meet the marks criteria given below to attend Oracle Recruitment Process.
B.E/Btech/BCom and other Graduates and Postgraduates should have a minimum of 60% in their academic career.
No Backlogs.
Backlog Criteria
No backlogs are allowed. In case of, backlogs the company will be rejecting the students profile. Therefore, we suggest you to clear the backlogs before joining the company.
Oracle Off Campus 2018-2019 – Required Skills
Should be good at communication skills and coding.
Must have minimum knowledge of Data Base and Oracle.
Should be Attentive and Spontaneous.
Aspirants should be willing to work for 24×7.
Should work for Full-Time.
Oracle Off Campus Drive 2018-2019 – Selection Process
Thereupon, Oracle is one of the most leading computer Technological Companies. So, getting a job in such company is a challenging issue. The contenders should be aware of the rounds conducted during the Oracle Recruitment Process. Therefore the rounds conducted in the Oracle Off Campus Drive are given below.
Aptitude Test (written)
Group Discussion
Technical Interview
HR Interview
The written test consists of Verbal ability, Essay writing and also Coding. So, one be thorough with all these rounds and questions asked in the interview.
Oracle Off Campus 2018-2019 – Important Documents
Updated Resume.
Colour and Black and white photocopies.
Original ID Proofs like (Adhaar card, PAN card, id card, Ration Card, Passport, Driving Licence etc).
All the academic mark lists.
And certifications if any.
Oracle Off Campus 2018-2019 – Registration Process
You need to check the official website @ www.oracle.com.
Next, you need to click on the following.
Oracle home -> Careers -> Job Search.
Next, you will find some empty particulars given below.
Job Title, Job Shift, Job Location, Job Schedule, Job Type, Job field etc.
Click on submit.
                     To Apply For Oracle off Campus 2018-2019: Click Here
Therefore, we hope the information provided was helpful. So, we suggest you not to miss the golden opportunity. Find your career growth by applying for Oracle Off Campus 2018-2019 Drive for Freshers, Online Registration through our website freshersnow.com. Stay tuned! for more updates.