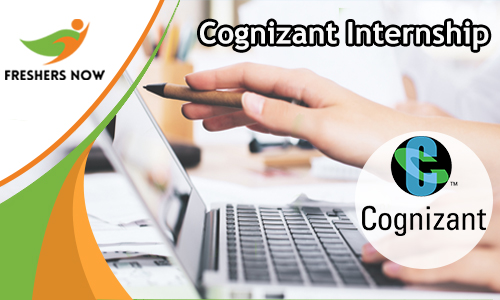 Cognizant Internship 2020-2021 – Stipend, Eligibility & Selection Process: Dear students, if you are looking for an opportunity in Cognizant as an Intern? then no need to worry. In this post, we have given some of the mandatory details like Summer Internship/ Winter Internship, Stipend, Eligibility, Selection Process, Steps to apply for Cognizant Internship 2020-2021, and much more.
Also, the Cognizant is stated that those who are having B. Tech, M.Tech, MBA, B.A, B.Com, CA, or pursuing their final year are eligible to apply for the Internship at Cognizant. The Cognizant is now conducting the On-Campus Drives at various locations like Ahmedabad, Bangalore, Chennai, Cochin, Gurgaon, Hyderabad, Kolkata, Mumbai, New Delhi, Noida, Pune, Mysore, Guwathi, etc for the students to select them for an Intern.

Cognizant Internship 2020-2021 Details
| | |
| --- | --- |
| Name of the Company | Cognizant |
| Qualification | B.Tech, M.Tech, MBA, B.A, B.Com, CA |
| Eligibility | Fresher, Student |
| Program Location | Across India |
| Category | Internship Jobs |
| Official Website | www.cognizant.com |
★ You Can Also Check ★
Cognizant Internship 2020-2021 For Students
The Cognizant visits some of the selected colleges to hire Interns. Therefore, we suggest the students that get in touch with your college placements for arranging a campus visit. Also, get in touch with the previous or current Cognizant Interns to know about the complete details such as Stipend benefits, Work benefits, selection process. Interested candidates can apply for Cognizant Internship 2020-2021 by following the below sections. The Cognizant Internship 2020-2021 gives confidence for the students to know about how to work, the environment, etc.
Cognizant Company Profile
Cognizant is an American multinational company. It provides IT Services, Including digital, consulting, technology, and operations services. Its headquarters is located in Teaneck, New Jersy, United States. It was founded on 26th January 1994. Kumar Mandeva Lakshmi, Narayanan Franciso D'Souza are the key people of Cognizant. Moreover, around 256, 100 employees are working under Cognizant. The official website of Cognizant is www.cognizant.com.
Cognizant Summer Internship 2020-2021
Cognizant Summer Internship 2020-2021 online registration process is available now. Generally, the Cognizant Summer Internships 2018 are eight to twelve weeks long. Depending on the students gets out of college, a Cognizant Summer Internships basically starts from May or June. The effective time frame for a Summer Internships is to start right after the first week of August. Also, one more advantage of doing the Summer Internship in Cognizant is you have a chance to work full time. We all know about the benefits of doing Full Time internships. Also, there is a scope of getting high pay for the Cognizant Summer Internships 2020-2021.
Cognizant Winter Internship 2020-2021
Right now many of the candidates are doing the Cognizant Winter Internships 2018. The time span of the Winter Internship is less than Summer. You can expect three to four weeks of the time period for the Cognizant Winter Internship 2020-2021. Also, you have to manage your studies at the same time working hours. So it is very difficult for the students to manage both. But no need to worry the Cognizant is giving a golden opportunity. According to your schedule, you can plan to attend the Cognizant Internship. Be confident and take a chance to work with a topmost MNC Company that is Cognizant. Also, you can visit the official website regularly which is www.cognizant.com.
Cognizant Internship 2020-2021 Stipend Details
A huge number of candidates want to earn money at the time of their studies. For those candidates, the Cognizant Internship 2020-2021 is the best opportunity. As soon as possible apply for the Cognizant Internship 2018 and join as an intern in the Cognizant Company. Also, don't expect a high salary. There is a separate salary for Full-Time Internships as well as Part-Time Internships.
Cognizant Internship 2020-2021 Eligibility Criteria
Before applying for Cognizant Internship 2020-2021 it is very mandatory to check the eligibility criteria. Those who are pursuing their Post Graduation, Under Post Graduation of computer science, Information Technology, electronics, and relevant engineering fields can apply for Cognizant Internship 2018. Also, candidates pursuing an MBA can apply for Cognizant Business Consulting. Also, there are a huge number of Internships for MCA students in Cognizant.
Cognizant Internship 2020-2021 Selection Process
After completing the online registration process, the interviewer goes through your profile. In case if you are shortlisted then you can receive an email from the HR Department for the Online Written Test. Therefore, perform well in the selection rounds with the help of materials.
How To Apply For Cognizant Internship 2020-2021?
Visit the official website of Cognizant that is www.cognizant.com
You have to take a look at the careers page
Search for Cognizant Internship 2020-2021.
Click on the link.
Now refer to the eligibility criteria details.
Check the complete information and fill the form.
At lastly click on the submit button.
Also, take a print out for further use.
To Apply For Cognizant Internship 2020-2021: Click Here
Want to know more information about an Internship at Cognizant, visit the careers page of Cognizant. If you want any clarification, drop your queries in the comment section below. For more information, visit our website FreshersNow.Com. Bookmark our website and get daily notifications.