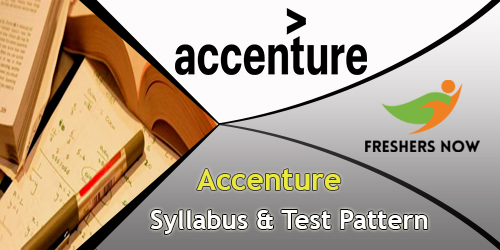 Accenture Syllabus 2021 PDF Download & Test Pattern (Latest): If you are looking forward to starting your preparation for Accenture Online Test 2021, then check Accenture Exam Syllabus 2021. Along with the Accenture Syllabus 2021 PDF, we have provided the details of Accenture Test Pattern 2021. Check the Accenture Selection Process and topics. And Download Accenture Exam Syllabus 2021 PDF through the below link for free of cost. With the help of the Accenture Syllabus 2021, candidates can easily prepare for the Accenture Placement Test.
★★ Free Accenture Mock Tests ★★
Accenture Syllabus 2021 & Test Pattern – Details
| | |
| --- | --- |
| Name of the Company | Accenture |
| Qualification | Any Graduates/ Post Graduates |
| Job Location | Across India |
| Category | IT Companies Syllabus |
| Official Website | www.accenture.com |
Accenture Test Pattern 2021
Stage I is an elimination round. And Stage 2, 3 are mandatory in the Accenture Test. Candidates who qualify in Stage 1, 2 will only have the chance to appear for the Stage 3 Communication Test. Remember that your performance in Stage 3 will be used as a reference in Stage 4 – Interview.
Name of the Stage
What's tested?
Number Of Questions
Duration (minutes)
Stage 1: Cognitive and Technical Assessment

Cognitive – English Ability, Analytical Reasoning & Numerical Ability
Technical – Pseudocoding, Common Application, and MS Office, Fundamentals of Networking, Security, and Cloud

Cognitive:  50 Questions
Technical: 40 Questions

90
Stage 2: Coding
Fundamentals of Programming – any language of choice between C/ C++/ Java/ Python/ DOT Net
2
45
Stage 3: Communication Test
Pronunciation, Fluency, Sentence Mastery and Vocabulary
NA
Approx 20
Stage 4: Interview
Learning Agility and Communication – Tested by panel members
Varies from candidate to candidate
Approx 30
Accenture Selection Process 2021
The Accenture Selection process will be the same for the candidates who had applied for the Accenture Off Campus 2021. To avoid the confusion raised in the minds of the aspirants we are specifying the Accenture Placement Process. As per the rules of the organization, the officials will conduct the Cognitive and Technical Assessment, Coding, Communication Test, Interview. Candidates who clear the written test will be called for the Interview rounds. To be the first in Accenture Placement Process the aspirants have to check up on the Accenture Interview Questions from our website. This will benefit the candidates to know the variety of questions that will be asked at the time of the Interview.
Detailed Accenture Syllabus 2021
Stage 1: Cognitive Syllabus
Verbal Ability
Sentence Correction
Prepositions
Grammar
Reading Comprehension
Idioms and Phrases
Speech and Tenses
Article
Synonyms & Antonym
Sentence Selection
Spotting Error
Sentence Arrangement
Analytical Reasoning
Arrangements
Visual Reasoning
Blood Relations
Flowcharts-Visual Reasoning-DI
Statement & Conclusions
Analogies
Coding-Decoding
Agree on Disagree Psychometric
Directional Sense
Seating Arrangement
Inferred Meaning
Logical Sequence
Numerical Ability
Algebra
Equations
Progression
Profit & Loss
Ratio and Proportion
Mensuration
Logarithms
Trigonometry
Divisibility
Simple and Compound Interest
Series and Progression
HCF and LCM
Areas
Numbers, Relations, and Functions
Pipes and Cisterns
Time and Work
Probability/ Pnc
Percentage
Speed and Distance
Averages
Geometry
Stage 1: Technical Syllabus
Fundamental of Networking
Common Applications and MS office
Pseudo Code
Stage 2: Coding Syllabus
Quantitative Aptitude Syllabus
Time and Work
Time and Distance
Problems on L.C.M and H.C.F
Simple Interest
Areas
Problems on Trains
Boats and Streams
Partnership
Pipes and Cistern
Simple Equations
Quadratic Equations
Mixtures and Allegations
Percentages
Problems on Numbers
Ratio and Proportion
Averages
Compound Interest
Volumes
Profit and Loss
Odd Man Out
Races and Games
Numbers and Ages
Simplification and Approximation
Indices and Surds
Mensuration
Permutations and Combinations
Probability
Logical Reasoning Syllabus
Number Series
Verbal Classification
Analogies
Logical Games
Logical Problems
Missing Letters
Matching Definitions
Calendars
Non-Verbal reasoning Series
The Embedded Figure
Classification
Water Images
Mirror Images
Clock Puzzles
Completion of Incomplete Pattern
Analytical Reasoning
Verbal Reasoning
Data Sufficiency
Data Interpretation.
Verbal Ability Syllabus
Articles
Adjectives
Gerunds
Homophones
Identify the Errors
Identify the Sentences
Plural Forms
Nouns
Odd Words
Prefix
Prepositions
Sentence Pattern
Suffix
Tag Questions
Tense
Synonyms
Antonyms
Prepositions
Sentence Completion
Active and Passive Voice
Passage Completion
Substitution
Sentence Arrangement
Transformation
Idioms and Phrases
Sentence Improvement
Para Completion
Spelling Test
Spotting Errors
Joining Sentences
Error Correction (Underlined Part)
Error Correction (Phrase in Bold)
Fill in the blanks
Accenture Syllabus & Exam Pattern – Important Link
Accenture Syllabus 2021 PDF Download & Test Pattern
Click Here
Our website Freshers Now is the correct place for the candidates to get the entire and exact Accenture Syllabus 2021 and Test Pattern. Aspirants can bookmark this page by clicking "Ctrl+D" for regular updates. The candidates can also check MNC Job openings from our website.
Accenture Syllabus 2021 – Frequently Asked Questions
Do Freshers Now Provide Latest Accenture Syllabus 2021 PDF?
Yes, the Freshersnow.com team Provides the Latest Accenture Syllabus 2021 PDF Download link for free of cost.
How many questions will be asked in the Accenture Stage 1 Exam?
90 Questions will be asked in the Accenture Stage 1 Exam.
What is the Accenture Selection Process?
Cognitive and Technical Assessment, Coding, Communication Test, Interview is the Accenture Selection Process.
How to Prepare well for Accenture Online Test 2021?
Candidates can check the Latest Accenture Syllabus 2021 along with the Accenture Test Pattern, Accenture Selection Process to prepare well for the Accenture Online Exam.