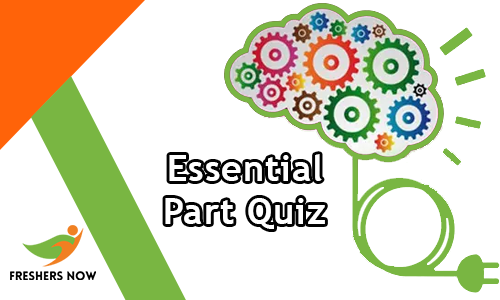 Is it essential to learn Essential Part? Yes, it is necessary to learn about this concept. Aspirants should know well about the content and need to practice Essential Part Quiz provided. Candidates are very much interested in writing their competitive exams like CAT, GRE, GATE, SSC, CGL, these type of questions will ask in exams. Meanwhile, aspirants,
take a look at the entire article and practice as much as you can to do better. By the way, while learning the Essential Part Questions not only used to attempt the exam but also to improve your skills more to achieve your goals. Moreover, this post provides you the easy way in explaining the content as well.
Essential Part Reasoning Quiz Details
| | |
| --- | --- |
| Quiz Name | Essential Part |
| Category | Reasoning |
| Number of Questions | 15 |
| Time | 30 Minutes |
| Exam Type | MCQ (Multiple Choice Questions) |
Essential Part Quiz Online Test – Practice Now
★ ★ ★ ★ ★ ★ ★ ★ ★ ★ ★ ★ ★ ★ ★ ★ ★ ★ ★ ★ ★ ★ ★ ★ ★ ★ ★ ★ ★ ★ ★ ★
★ ★ ★ ★ ★ ★ ★ ★ ★ ★ ★ ★ ★ ★ ★ ★ ★ ★ ★ ★ ★ ★ ★ ★ ★ ★ ★ ★ ★ ★ ★ ★
So, Candidates task is straightforward to attempt their exam by preparing for Essential Part Questions and Answers, learning better explanation with every question. So, no need to worry about the concept. Take this Test and practice Essential Part Reasoning Questions that make you feel free about the idea that you are facing difficulties. Furthermore, spend just 30 minutes of time with us, in turn, we will provide you with best results. The practice test results in getting throughout your exams well. Thereby don't miss this opportunity. Try to utilize it and improve your thinking ability.
About Essential Part Reasoning Questions
Essential Part is the concept related to logical reasoning that is important in various competitive exams, and also interview point of view. The idea of Essential Part is synonymically similar but varies at the choice part. It involves the phenomenon of chopping the appropriate word to be selected for the word. The word was given to the question displayed, and the candidate needs to choose the apt option for the problem. We provide you the quiz that is mostly asked in various exams and placement papers even. The questions have an underlined word which follows four answers as multiple choice. Now it's your job to attempt those questions.
Moreover, this is an easy topic in Reasoning as it has the most straightforward way of answering the question given. Meanwhile, the content covered in exams have proper weightage to score well in this part of your review as well. So, people who are interested in learning this concept should not leave this page. Furthermore, we also provided a quiz pattern that assists you to recover your complexities. The primary task of the aspirants is to identify the best word which suits to the given underlined word.
Benefits of practicing Essential Part Reasoning Quiz
The article provides you the content in detail.
Candidates need to be more careful while attempting this part in their competitive exams.
Accuracy in assigning answer to the question.
Results of Essential Part Reasoning Quiz
As this topic is not so tricky, candidates can quickly overcome the problem by learning the above tips.
After the submission of your exam, we provide marks and grades.
Usually, aspirants can rank themselves on the result.
Candidates will be very useful in solving the issues.
For any details regarding this content, keep on visiting our Freshers Now site.
Practice More Reasoning Questions and Answers
Practice More Logical Reasoning Questions and Answers
| | |
| --- | --- |
| ★ Join Freshers Now Social Media Channels: | Click Here |