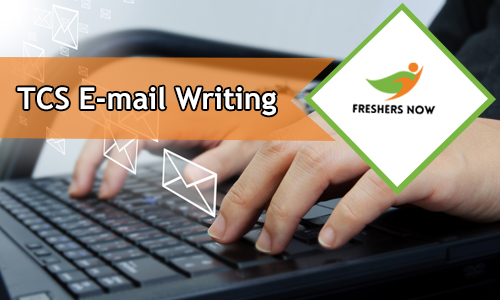 TCS E-mail Writing Sample Questions Answers with Examples are available on this page. Check them all. This article will surely give an overall idea about the TCS E-mail Writing. If you go further in this post, you will find some informative Sample Questions along with Answers. You can practice all these examples, to improve your skills. Thus you can perform well in the TCS E-mail Writing. Apparently, TCS is going to test the Candidates knowledge and flexibility in writing technical E-mails. As the TCS company deal with many big clients. Therefore, along with all other Recruitment Rounds, TCS is also conducting E-Mail Writting. Thus, through this, they are going to choose more skilled people. Most of the people who attend the TCS Selection rounds do perform well. But they will lose it in this E-mail Writing Round. This is not that tough, all you have to do is practice.
★★ TCS NQT ★★
★★ Free TCS NQT Mock Tests ★★
★★ Free TCS Digital Mock Tests ★★
TCS E-mail Writing Sample Questions Answers
So, TCS is well known for its reputation in India for its IT Services across the Globe. Therefore, it is also keen on recruiting best candidates who are skilled with all the requirements they are looking for. So, they are conducting some recruitment rounds. This includes Online Test which will be on Aptitude, Group Discussions, E-mail Writing, Technical Interview, Personal Interview which will be HR. Accordingly, an individual will go to next rounds in the Selection process, only if they clear the initial rounds. Clearing TCS Selection process is not an easy thing. All the Candidates have to practice hard. Now to clear the initial round, you can check some Aptitude Practise Tests on our site. Then for Group Discussion clearance, you can check the tips. But when coming to this many of the individuals are failing to clear TCS E-mail Writing.
You Can Also See: ★ TCS Placement Papers & TCS Syllabus & How to Prepare for TCS?
So, keeping all these needs and requests of the Candidates, here we are presenting our new article. This post will contain all the details about the TCS E-mail Writing round. And we all also provide some information such as tips and tricks to crack this Recruitment round with flying colors. Therefore, go on and check this article further, as we have also attached some PDF's. By downloading the PDF you can find some sample E-mail Writings. You can check them and utilize them to practice. Remember the single mantra to crack this round is to practice and practice. Other than that, nothing will make you pass that round. And to make this easier, we are also giving some useful tips, this will surely boost up your confidence. Looking for TCS E-mail Writing Sample Questions Answers with Examples? Then proceed to check this post further, to know all of them.
You Can Also See: ★ TCS Careers & TCS iON IntelliGem Contest
TCS E-mail Writing – Tips, Shortcuts | TCS E-mail Writing Rules
Now initially, soon after you get the Question, you need to primarily focus on reading the question carefully. And then identify key terms such as whom you have to send it and in which name. And please try to use all the phrases that are mentioned in the question. Here the main key to passing this round is observation. Sometimes you might mistake names of Whom you should send with like whom you should send it. Therefore, soon after you got the Question try to check it carefully. Now, please check the sample question and try to grab the key terms in that question. This will make your TCS E-mail Writing Round easier.
You Can Also See: ★ TCS NextStep & TCS NQT Programming Logic Q&A
Example: As a Recent Buyer of their AC, Write an Email to the manager of A to Z Electronics Company, Mr. Naryana, regarding the poor quality of service facility available in the city. Sign the email as Parnika
Now, in the above-mentioned example, TCS has asked you to write Email to Mr. Naryana as Parnika. You should notice such small details, which are quite important for you to score, the marks. many of the freshers, get confused with these little things, making them fail the TCS E-mail Writing Round. So, as of on above example, TCS is asking you to write an E-mail to Mr.Naryana who is the manager at At Z Electronics Company about the poor Quality Service Facilities available in the city. And note that they also asked you to sign the Email as Parnika. While taking this round, candidates should be attentive for such small thing.
TCS E-mail Writing Rules | TCS E-mail Writing Round Tips
So, basically, try not to change the tenses and order of the phrases in the outline they have given to you. Now please consider the above example, for you, it is given as Customer Satisfaction. Therefore, try to use it as it is. And do not try to change it as Satisfaction of Customers. So, do not even change the phrase, even though the change makes it sound better than the given one in the question. Also, many of the Freshers are not aware that this test is complete, online and no one will obviously read the entire Email. And select you on that basis.
You Can Also See: ★ TCS Aptitude Questions, TCS Verbal Ability Questions
TCS generally do the Mail Checking using Simulators. Therefore, we hereby suggest the candidates not to experiment with the Phrases. Let them be as what they are given to you. And you should also keep the time track while taking this round. Apparently, TCS will only give 10 minutes of Time for all the Candidates. So in the Span of 10 Minutes, the candidates should complete taking the TCS E-mail Writing 2018 Round. And while taking this round, try to concentrate more on the Basic Grammar and punctuation.
TCS E-mail Writing Sample Questions Answers with Examples
Now, it is not an unknown fact that TCS is hiring the brilliant and skilled individual who are freshers and finished their Graduation or Post Graduation. Therefore, many of the candidates who are eligible are applying for the TCS Off Campus Drive 2018 as well as TCS On campus drive 2018. Therefore, from all these applicants, to choose best and efficient candidates, TCS chose some filtering process. So, those candidates who will come to the final round by clearing all the Recruitment rounds has the scope to get placed in TCS. Getting a job in an organization like TCS is not a normal thing. The Recruitment Rounds will be very tough. Only those candidates who are having enough knowledge, and practice, can clear those rounds. Find out more about the TCS email Writing 2018, TCS email writing Rules, TCS Placement Papers email Writing.
You Can Also See: ★ TCS Coding Programming Questions, TCS Reasoning Questions
So, many of you might be wondering about TCS E-mail Writing Questions, TCS E-mail Writing Topics and TCS online E-mail Writing Test 2018. Then check this article to know about the Email writing Format for TCS. We have tried to cover all the information in this post, as we can. Go through this post carefully. This article about the TCS E-mail Writing will give an overall idea about how to Crack this round. And please remember that the Sample Topics given on this page are only for the practical purpose. The Topics in the Actual Test will differ. By practicing these topics given on this page, will allow getting control over how to perform in the actual TCS E-mail Writing 2018. Therefore, click on the links we have given down in this post. And start your preparation. Only if you clear this TCS E-mail Writing Round, you can go to next rounds.
TCS E-mail Writing Sample Questions Answers I: Click Here
TCS E-mail Writing Sample Questions Answers II: Click Here
Like the source on this page about TCS E-mail Writing 2018? then share it with your friends too. Please note that all the data on this page is only to refer. And these are not the final topics you will get in the E-mail writing round of TCS. For more such updates check our site Freshersnow.com regularly.