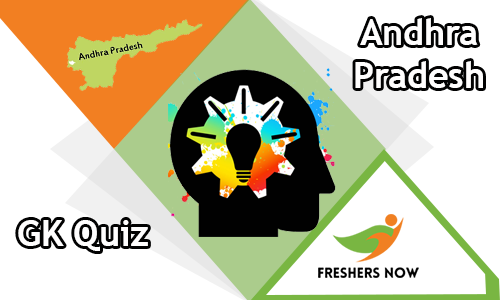 Are you sophisticated in knowing about Andhra Pradesh GK Quiz? Well here, in this post we provide you in-depth information about Andhra Pradesh Online Test. Moreover, in this post, we provide Andhra Pradesh GK Questions which helps you to face competitive exams. Furthermore, this Andhra Pradesh GK Questions and Answers will likely help you out to face various competitive exams. This Andhra Pradesh General Knowledge Questions and Answers comparatively helps you to get a grip on various topics. The post not only provides the Andhra Pradesh General Knowledge Questions but also provides an appropriate explanation. So that, the candidates can redress their mistakes. For more updates and complete details please do follow our website Freshersnow.com.
Andhra Pradesh GK Quiz Details
| | |
| --- | --- |
| Quiz Name | Andhra Pradesh General Knowledge |
| Category | General Knowledge Questions |
| Number of Questions | 25 |
| Time | 30 Minutes |
| Exam Type | MCQ (Multiple Choice Questions) |
Andhra Pradesh Quiz Questions and Answers
About Andhra Pradesh GK Quiz Questions
Andhra Pradesh is one of the 29 states in India. It is the eighth-largest state in India covering an area of 162,970 kms. The largest city in this state is Vishakapatnam. Andhra Pradesh is composed of two distinct major regions, Coastal Andhra and Rayalaseema and hence also called as Seemandhra. Agriculture is dominated by the production of food grains. This is the major sector of the state's economy, in terms of value.
Andhra Pradesh is one of the leading rice-growing states in the country. It is the major producer of India's tobacco. The state rivers, particularly the Godavari and Krishna, account for its agricultural importance. Pulihora or tamarind rice along with green chilies is the popular food in Andhra Pradesh. The vegetarian dishes consist of koora, which include cooking different vegetables of styles – with gravy, frying, with lentils, etc.
State Symbols Of Andhra Pradesh
Official State Tree – Neem.
State Flower – Water Lilly.
State Fruit – Mango.
Official State Animal – Blackbuck.
State Bird – Indian Roller.
State Sport – Kabaddi.
The Geographical Facts about Andhra Pradesh includes the following: The Largest Tiger Reserves is Nagarjuna Srisailam Sanctuary. Andra Pradesh has second Longest coastline after Gujarat. Amaravathi is proposed as a new capital of Andhra Pradesh.
Anantapur is the largest district of Andhra Pradesh by area and East Godavari district is largest by population. Moreover, there are many facts that are related to Andhra Pradesh.
Benefits Of Practicing Andhra Pradesh GK Quiz
There are various types of benefits by practicing these. They are:
The timer displayed in the top right corner helps you to know the time and the time remained to answer.
The questions with proper explanations are provided to rectify your mistakes.
The status bar is displayed which helps in making you know that the number of questions completed.
Results Of Andhra Pradesh GK Quiz
Results are put on view after the submission of your Andhra Pradesh GK Quiz.
Every question explanation is provided in a detailed manner. By going through this Andhra Pradesh GK Questions and Answers, every candidate who is facing any competitive exam will definitely overcome their difficulty and can improve their knowledge.
You Can Also Check: