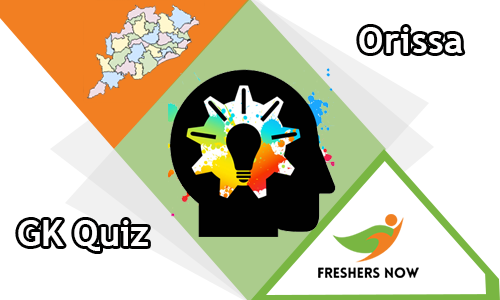 Improve your Odisha GK Skill by checking the Odisha GK Quiz Questions and Answers available in this post. And these Questions will help an individual to sharpen their skill in the General Knowledge. Do you know about Odisha one of the states in India?. Are you eagerly waiting to know about Odisha? Our page presents you some Odisha GK Quiz Questions. It gives you a clear view in mind about the state and that view is helpful to face any of the interviews like Civil Service- mains and exams like groups, SSC, UPSC.
Moreover, this Odisha GK Quiz is useful for other competitive exams like TET, and DSC for choosing teaching profession. These Odisha Quiz questions help you to improve yourselves in general knowledge about the state. Odisha Quiz questions and answers are provided for the easy understanding of the questions that are answered incorrectly. Correct answers are given by the Odisha Quiz which gives complete information about the Odisha state. If you practice this well you will definitely crack the competitive exams.
Odisha GK Quiz Complete Details
There are 25 questions given in the Odisha GK Quiz and to answer them you are given half an hour that is 30 minutes. This is a reasonable time limit to answer the questions. Here this Odisha GK Quizhas multiple choice questions which are enclosed below within the link. If you click on the link then your Odisha GK Quiz Questions will be started and timer also starts running after you click on start exam.
| | |
| --- | --- |
| Quiz Name | Odisha GK |
| Category | General Knowledge |
| Number of Questions | 25 |
| Time | 30 Minutes |
| Exam Type | MCQ (Multiple Choice Questions) |
Odisha General Knowledge Questions and Answers
About Odisha GK Quiz Questions
Odisha previously known as Orissa is one of the states in India which is located in the eastern coast of India. Nearly, three-fourths of the area is covered with mountains and rivers. The capital of Odisha state is Bhuvaneswar and is known as temples city of India. Odish a state has 30 Districts. The Odisha has religious attractions like Lingaraja Temple in Bhubaneswar, the Jagannath Temple in Puri and the Sun Temple in Konark. Other famous tourist places other than temples in Odisha are Puri beach, Chillika Lake, Bhitarkanika Sanctuary, Simlipal National Park, and Udayagiri and Khandagiri Caves.
Benefits of practicing Odisha Quiz
Several benefits are offered by the Odisha GK quiz. Mainly,
This Odisha GK Quiz has the time limit and is useful for assessing time for every question and you may get alert by seeing time and proper time is given to every question to think and solve.
Answers are provided after the completion of your Odisha GK quiz. So, that it will be easy for you to know the correct answer which you do not know.
Some people are not interested to study in books, in such cases, our Quiz will is very helpful and also creates interest.
Odisha GK Quiz is helpful to learn new concepts regarding the state.
Results of Odisha Gk quiz
The results of Odisha GK Quizare generated after the end of our exam. If you are answered correctly it will be given marks otherwise no marks are provided.if you got the good result in Odisha GK Quizthen it will be helpful. If you get the least score, then you need to improve yourself in gaining knowledge. For more information keep visiting our website freshersnow.com offers you many things at one place.