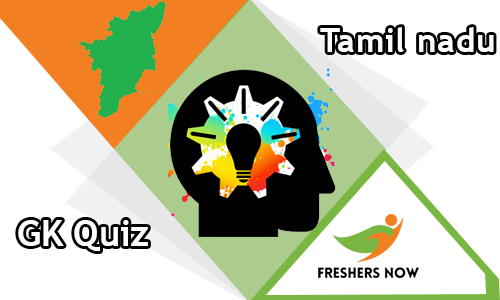 Tamil Nadu GK Quiz provides useful questions that are related to the different aspects of Tamil Nadu state. It includes Political, geographical, cultural, economy, educational, growth and several other aspects of the state. This Tamil Nadu GK quiz provides interactive questions that are very useful for the various competitive exams like Civil Service, Group exams, and many other exams seek for the knowledge of individual about our country. This Tamil Nadu quiz questions and answers are useful for such kind of examinations. Moreover, Tamil Nadu quiz questions are helpful to know about the state which ranked as one of the top seven developed states in India based on a "Multidimensional Development Index". So, Tamil Nadu GK questions are helpful in various ways. Let's look at the details of the TamilNadu Gk quiz.
Tamil Nadu GK quiz details
Tamil Nadu GK quiz has 25 questions to answer and for each question, multiple choices are given. You have complete the test within the time limit of 30 minutes. It is sufficient time to answer 25 questions in the quiz. Moreover, this quiz provides answers along with the explanation. Here we provide a tabular form which gives information about the GK quiz in detail.
| | |
| --- | --- |
| Quiz Name | Tamil Nadu General Knowledge |
| Category | General Knowledge |
| Number of Questions | 25 |
| Time | 30 Minutes |
| Exam Type | MCQ (Multiple Choice Questions) |
Tamil Nadu GK Questions
About Tamil Nadu Quiz Questions
Tamil Nadu is one of the 29 states of India. Its capital is Chennai previously known as Madras. Tamil Nadu is located in the southernmost part of the Indian Peninsula and is bounded by south states like Kerala, Karnataka, and Andhra Pradesh. Most of the people in Tamil Nadu use Tamil as the communication language, which is one of the longest used languages in the world. Chief Minister of Tamil Nadu state is Edappadi K. Palaniswami. The state ranks third among other states in India according to the Human Development Index. Its population is nearly 72,147,030 and ranked 6th in Indian states in terms of population. Tamil Nadu is one of the most developed states in India and it is the eleventh large state in India
Benefits of practicing Tamil Nadu General Knowledge Quiz
There are several benefits in practicing this Tamil Nadu GK quiz. Some of them are
We can know about the state which is one of the most developed states in India.
Time management is known for every person which will be more helpful for competitive exams.
We can easily score well in competitive exams as this quiz gives sufficient knowledge about the state.
We can understand how it becomes second-largest state economy in India.
This quiz explains each and every question with appropriate answers.
Everyone get confidence after practicing the quiz so that they are free from fear of competitive exams
People with good score in the quiz can face the main exam easily with confidence
Results of Tamil Nadu Quiz
Tamil Nadu GK Quiz results contained marks, points as well as grades. These points are helpful to assess yourself easily. The results also have the explanatory part of the questions that are answered wrong. These results are provided after the proper submission only or else after if the time is completed then also the exam gets submitted. To find out other Quizzes too check our site Freshersnow.com.
You Can Also Check: