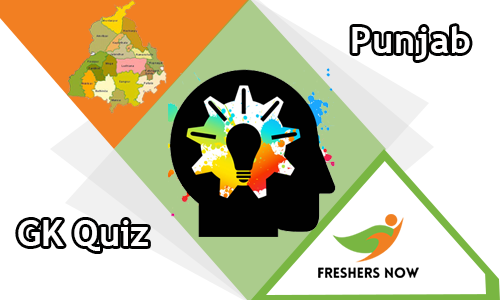 Taking Punjab GK Quiz through this page. Down in this post, we are providing the Punjab General Knowledge Questions along with the Answers. So, all those people who are preparing for Different Entrance exams or Recruitment can practice here with the help of the Punjab General Knowledge Quiz. Do you know what is the rank of Punjab among Indian states? Be quick to know about Punjab. Here on our page, we provide a Punjab GK Quiz which provides some questions that gives you good knowledge about Punjab state. Punjab Quiz can be used to improve your skills. And that will be helpful for competitive exams.
Punjab Quiz questions let you know various things that are related to the state of Punjab. That includes several disciplines such as education, religions, economic growth, customs and many other. Also, Punjab Quiz questions and answers are enclosed in our page which is very easy to see those at the same time useful for your future. Generally, moving on to next window creates irritation in our mind but our Punjab Quiz on general knowledge provides it below. Click on to the link to have Punjab GK Quiz and make use of it.
Punjab GK Quiz details
In Punjab GK Quiz we provided a list of 25 questions with multiple choices. You have to complete them within the time span of 30 minutes. After the completion of the exam, your results are published immediately. Look at the tabular format given below which shows you the complete details of Punjab Gk Quiz.
| | |
| --- | --- |
| Quiz Name | Punjab GK |
| Category | GK |
| Number of Questions | 25 |
| Time | 30 Minutes |
| Exam Type | MCQ (Multiple Choice Questions) |
Punjab Quiz Questions and Answers
About Punjab GK Quiz Questions
Punjab is one of the states in India located in Northwestern part. Punjab capital city is Chandigarh. Agriculture is the important occupation for people in Punjab. Punjab is also known as the home of Sikhism. It has 22 districts. Some of the tourist places in Punjab are Golden Temple, Rock Garden, Nurpur Fort and many others. Captain Amarinder Singh, is the current Chief Minister of Punjab. Mainly, Sikhs are living in Punjab for the past several years.
Capital city: Chandigarh
Languages: Punjabi
Population: 27, 704, 236
State animal: Blackbuck
Bird: Baaz
Tree: Shisham
No.of Districts: 22
Major crops: Wheat, gram, barley, oil seeds
To know more about Punjab GK Quiz questions scroll down to the benefits of the Quiz.
Benefits of Punjab GK Quiz
The main benefits you are having by attempting this Punjab GK Quiz is
Boosting their skills by giving their results as grades, points, and marks along with a brief explanation.
More amount of information is known about the Punjab state.
Benefited by the timer provided like in major competitive exams.
Online tests like this help to avoid fear in people.
Question wise analysis is given which very useful and helpful.
Results of Punjab GK Quiz
Also, Results are facilitated by the grades and points by converting marks. Results of Punjab GK Quiz are also provided with the explanation to every question that you have faced in the exam. After opting every answer you can see the result of that question. It will give you right answer with a green tick mark. If you have mentioned the wrong answer it will be given with red tick mark and the correct answer is given with green mark along with the wrong answer.
You have a clear view of the questions that you have answered by the explanation. On this page, we also provide a pdf of questions and answers. For more details keep visiting our website freshersnow.com.
You Can Also Check: