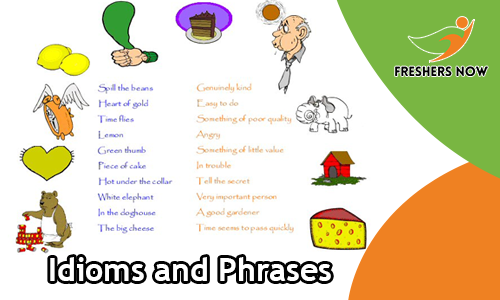 Idioms and Phrases Quiz has been arranged in this article. So all the candidates who are willing to know about the verbal section can utilize this as a right opportunity. Moreover, we are providing you the best. Through this page, every individual can able to take the Idioms and Phrases Quiz Questions. We have gathered many of the questions along with examples. So, try to face the exam and answer them. By facing this Idioms and Phrases Online Test, every people can check their IQ levels. This post is a benefit for the participants who are preparing for the Competitive Exams. And the Questions in this Quiz have various levels. That may answer by the beginners and also the experts. Here they are some Practical Questions that are related to Idioms and Phrases Quiz Questions.
Idioms and Phrases Quiz Overview
| | |
| --- | --- |
| Quiz Name | Idioms and Phrases |
| Category | Verbal Ability Quiz |
| Number of Questions | 25 |
| Time | 30 Minutes |
| Exam Type | MCQ (Multiple Choice Questions) |
To know about the details regarding the Idioms and Phrases topic you can go through this page and see the concept of idioms and Phrases Quiz. By seeing this and by daily practicing this Quiz. You may crack your examinations well. We are providing all but some of the candidates have some doubts. For that reason, we are giving you the Idioms and Phrases Quiz Questions and Answers we think it would be effective for you. Learning any concept is easy but when it comes to the application we are neglecting that but it is also more important.
Idioms and Phrases Online Test
So now we hope that you candidates got some idea about Idioms and Phrases how it is important. In the below we discuss the concept of the Idioms and Phrases then you get a clear idea on this topic in English.
About Idiom and Phrases Questions in English
An Idioms and Phrase mean a speech form or it denotes an expression of a language. And it cannot be understood by the individual meanings of its elements. Usually, the beginners feel very hard to understand the Idioms and Phrases concept. Most of the Idioms in English are in an informal way. For example, see below we have mentioned some Idioms and Phrases with clear explanation.
Play it by ear: This Idiom tells us that rather than sticking to a defined plan, you will see how the things go and decide on courses of action as you go along.
Example: "What time shall we go shopping?" "Let's see how the weather looks and play it by ear.
Turn a blind eye: To "turn a blind eye" something means to pretend not to have noticed it.
Example: "She took one of the cookies, but I turned a blind eye."
Know the ropes: "knows the ropes" is the experienced at what they are doing. "Showing someone the ropes" means to explain to them how something is done.
Example: "Ask John, he knows the ropes around here."
In stitches: The meaning of this Idiom or Phrase is If you're "in stitches", you're laughing so hard that your sides hurt.
Example: "He was so funny – he had me in stitches all evening."
So these are some of the examples related to the topic Idioms and Phrases. By seeing those examples you get a clear idea about the Idioms and Phrases which will be useful for your all Competitive Exams and also increase your way of communication skills.
Benefits of Practicing Idioms and Phrases Quiz
Aspirants will get a practical knowledge of the particular topic when compared to learning the concept.
Our article will give you the simple way in scoring the good marks in the Quiz and as well as it helps you to crack the highest marks in all the different levels of Exams.
By practicing this Quiz daily candidates will be able capable of having the grip on the topic called Idioms and Phrases.
Results of Idioms and Phrases English Quiz
By writing this Quiz day by day regularly, the candidate can get grip on the subject. And you would become skilled and you will be perfect in the concept named Idioms and Phrases. It will improve your vocabulary also while by learning the concept. Furthermore, details visit the websites like Idioms and Phrases Quiz for bank Exams, Idioms Quiz for SSC, Idioms and Phrases exercises with Answers, Idioms Multiple choice questions. And to get the latest updates regarding Idioms and Phrases visit our website Freshers Now.
Practice More English Questions and Answers