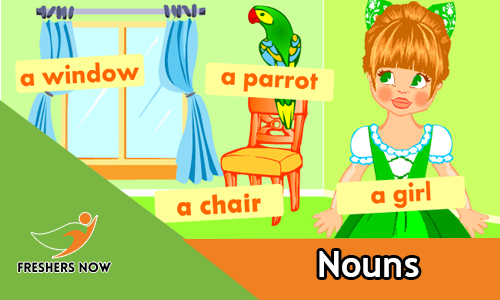 Nouns English Quiz Questions along with the Answers and Perfect Explanation is available in this post. Well, this is going to guide many of the aspirants preparing for a Different kind of Entrance Exams. All such contenders can prepare for their respective exams on this topic. And for that purpose, they can use the quiz we provided in this post. As well as the Quiz in this post is also going to help the people who are trying to improve their skills on Nouns. So, here on this page, we have provided the Questions. And also if the candidate has any doubt regarding, to the Quiz they can check the explanation too.
That is also available on this page. They can utilize this Nouns Quiz Questions and Answers. By facing this Nouns Quiz the people may get some fluency in English. And also check some the websites have shown below related to Nouns English Questions. Also in the below, we have discussed Examples, Kinds of Nouns and the importance and Results.
Nouns Quiz Questions Details
| | |
| --- | --- |
| Quiz Name | Nouns |
| Category | English Quiz |
| Number of Questions | 25 |
| Time | 30 Minutes |
| Exam Type | MCQ (Multiple Choice Questions) |
Nouns Quiz Online Test
In this Nouns Quiz, it consists of mainly 25 Questions. And the time limit for to complete the Quiz was about 30 minutes of time. Nearly it takes half an hour to complete the Quiz. The Quiz Questions of Noun are in the form of MCQ's which means Multiple choice questions. The Quiz Questions has given below.
About Nouns Quiz Questions
Before going to the topic Noun. What is a Noun? do you have any idea about Noun? It is most important in written and spoken languages. But it is very glad to say that the Nouns are very easy to understand.
The noun is one of the parts in parts of speech simply we can say that Nouns are related to the types of words. I think we may be familiar with basics of parts of speech like Nouns, verbs, adjective, adverb etc. It has mainly indicate the places, people, things, and finally ideas. Nouns are classified into 2 types they are common and Proper Nouns. Here common Nouns meaning was same as like a Nouns. The common nouns are general people, places, things etc. And the Proper nouns name as specific people, places, things, etc.
Examples of Nouns
As I said in the above the Nouns are of 2 types. They are Common and Proper Nouns. So now we will look some examples as shown below.
Common Nouns
president
teacher
brother
Proper Nouns
Barak Obama
Mrs. Navya
Sai Varun
By above-mentioned example, we specify some of the Common and Proper Nouns. The difference between the 2 nouns. We cannot specify the 1st letter capital in Common Noun while coming to Proper Noun we specify the 1st letter has capital i.e the main difference between these 2 Nouns 1 specifies the particular name and another one specifies just names and places. So, now I think you have a little bit familiar with the Nouns.
Benefits of this Nouns Quiz Questions
By writing this Nouns Quiz everyone can easily understand and who are poor in English grammar also it is useful for those people.
It is useful for kids, adults and the students also. In this Quiz, we are providing you the examples related to Nouns.
Before writing the exam. The candidates can go through the Examples we have given in the above it will help you to solve the Quiz Questions and also it will improve our grammar skills.
So the aspirants it is right and good opportunity for you. Follow this page and take the Quiz, gain good marks as well as improve your grammar it will help you in your competitive exams and in interviews.
Results of Nouns
The results of the Nouns Quiz will be issued. When the candidate submits the Nouns Quiz within the time limit. Then they can able to score good marks. And the people can also boost up their levels and skills. This tells us that the performance of each candidate. To Knew more information regarding Nouns visit the websites like Examples of Nouns, kinds of Nouns, Everything about Proper Nouns, Examples of Nouns in a Sentence. To get Furthermore details visit our website Freshersnow.com.
Practice More English Questions and Answers