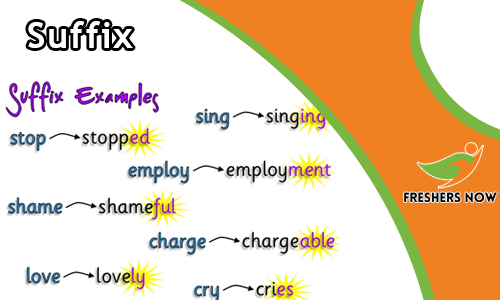 Do you feel that you don't have enough knowledge on Suffix? Well, we are together with you to reduce the confusion on this topic. The following post provides you the Suffix Quiz which will boost you to improve your knowledge. The Suffix Questions in this test is from various stages to reduce the complexity of the aspirant. This helps the candidates to reduce the complexity of searching the different websites. Moreover, this site provides you the Suffix Questions and Answers. These get displayed after submission of your exam. As the answers are provided the candidates can easily refer themselves. The Suffix English Questions in this post helps to get through various competitive exams easily. So, the candidates can grab this chance and improve the knowledge. Don't be late and take the quiz that is provided below.
Suffix English Quiz Details
| | |
| --- | --- |
| Quiz Name | Suffix |
| Category | Verbal Ability Questions |
| Number of Questions | 25 |
| Time | 30 Minutes |
| Exam Type | MCQ (Multiple Choice Questions) |
Suffix English Questions Online Test
Suffix Questions are included in various competitive exams an entrance examinations. These help in increasing the knowledge and communication skills. Moreover, these are used to identify the meanings of the words. For example, consider the candidate is preparing for GRE then he needs to remember the implications of thousands of words. With the help of Suffix, one can know the related meaning and helps in cracking the examination.
About Suffix English Questions
A suffix is a letter or a group of letters that is attached at the end of a word to form the new word. Mastering in common suffixes is like learning a code. Once you crack the system, you can not only spell words correctly but also recognize the words and define unfamiliar words. Typical examples are case endings, which indicate the nouns or adjectives, and verb endings, which form the conjugation of verbs. When we are attaching the Suffix, the following key points should be kept in mind. The spelling of root or base word changes when a these get added. All of them can't be added to all roots. The suffix can have more than one meaning. Have a look at the following example
Example:
The suffixes like –ness and –ly is added to a word, the spelling of the word does not change.
dark + ness = darkness
scholar + ly = scholarly
When the suffix begins with a vowel, drop the silent e in the root word.
care + ing = caring
use + able = usable
Benefits Of Practicing Suffix English Quiz
Suffix English Quiz helps the aspirants to face examinations quickly and to improve the knowledge.
You can grasp every concept within a short span of time.
Moreover, as it provides the time limit, we will be able to know the amount of time remained.
Results Of Sentence Pattern English Quiz
Results obtained in this test, helps us know our level of performance.
Moreover, this also makes you know the concepts in which you are perfect.
we display the results at last.
For Furthermore details and updates, keep on visiting our website Freshersnow.com
Practice More English Questions and Answers